Booster LC 86 cc Malossi Big Bore by Gohan
Romain aka Gohan is one of the main moderators of the Maxiscoot Forum; over the years he has worked on his MBK Booster LC and turned it into a truly outstanding vehicle.
With a lot of ambition, care, know-how and good taste, he always proved to have a good hand in selecting the most powerful engine components and the most beautiful accessories for his scooter.
Engine tuning, chassis modifications or bodywork customization – it doesn'tmatter what, there's no half-assing for Romain.
Many scooter fans will know the black-yellow version of the bike that was present at many events in the 2000s and was featured in the April 2007 edition of  Scoot'n Scoot magazine, but only a few people know about the latest developments. Find out more!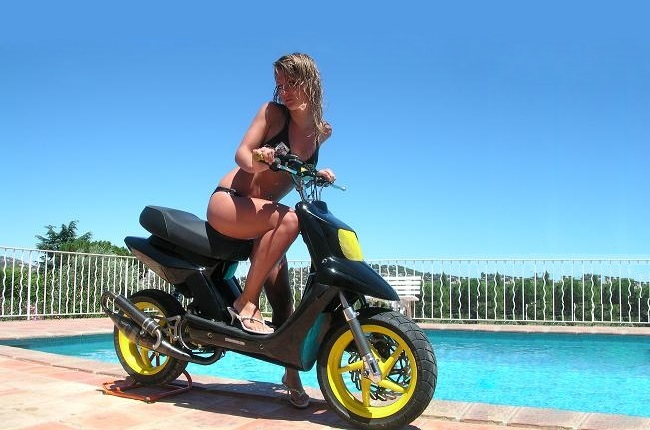 At the end of 2005, Romain decided to present his scooter in the Maxiscoot Forum in the tuning projects section – a Booster Spirit with tuned Nitro / Aerox engine.
There was a lot of encouraging and positive comments in the forum. Romain posted several photos of the frame he modified for installing a Minarelli horizontal crankshaft for MBK Ovetto (drum brake).
For maximum power Romain opted for high-end tuning parts: cylinder 70 cc Stage6 Racing, exhaust Hebo Manston HR3 then HR4, carburetor Ø21 mm PWK, intake spacer Kiesler with intake manifold Koso, karting air filter and inner rotor ignition Malossi.
The look is clean, with black plastics, first the original panels then panels from BCD (tail / spoiler / underbody) and Aprilia SR rims with 5 spokes. The radiator sits behind the front fairing and has a pocket bike reservoir.
After some fine-tuning and after mounting a Tommaselli quick-action throttle, Romain set to work on the custom look of his bike. The rims were painted in a fantastic yellow in a body shop, and silver, then yellow grilles were attached to the spoilers to highlight the cut-outs.
The set-up was completed with a brake disc Stage6 SSP Ø280 mm and a shock absorber from Fournales, later replaced by a Malossi RS3. Romain changed the engine set-up again as follows:
Cylinder 70 cc Polini Evolution with Piaggio piston
Reed Valve Stage6 VForce 3 Piaggio + intake manifold TVX
Carburetor Dell'Orto Ø25 mm then Koso Ø28 mm
CVT Polini Evo
Exhaust Malossi MHR Team 2006
Performance at the wheel ≈ 18 hp
After an unfortunate accident with severe damage to fairings and seat, Romain decided to completely redesign the look of his Booster, which resulted in the version known to most people.
He opted for a plastics from SL Technologies, a TNT fibreglass underbody and a new interior front fairing, which was painted by Dam Custom Paint (better known under Dam Design) with black glitter paint and airbrush motifs.
The chassis was also modified. The fork tubes were lowered and accompanied by a triple tree for Nitro / Aerox (originally Booster), a polished brake caliper and a new, also polished Top Performances variator cover. The icing on the cake was a new shock absorber: the RS24 by Malossi.
The StarBar handlebar and the Str8 handlebar stem were replaced by a dragster-style cockpit with a milled stem plus downhill handlebar clamp and a straight carbon fibre handlebar.
For optimum grip, two Stage6 Racing Slicks were put on the 13-inch wheels that were previously equpped with regular road tires.
In order to improve the performance a bit more, Romain then added a new crankshaft and turned to RSE Racing aka Drug for additional tuning.
The new set-up consists of:
Cylinder Malossi MHR Team II
Intake Spacer custom-made + Koso manifold
Caburetor Koso Ø30 mm

Secondary Transmission Stage6 15/39

Performance at the wheel ≈ 21 hp
At the beginning of 2008, Romain finally decided to take down the old frame. He took the opportunity to extend the wheelbase of the Booster by welding a custom-made subframe (tube + U) to the new chassis.
Romain, increasingly active in the 50cc scene, chooses parts from the catalogue of renowned Italian manufacturer 2Fast to put together a brand new engine set-up and try to work his way up the official 2009 rankings.
He only uses components that were successfully tested in high-end tuning:
Cylinder 2Fast 78 cc
Crankshaft 2Fast

Carburetor Koso Ø34 mm

Exhaust Cristofolini
Performance at the wheel ≈ 24 hp
The new configuration goes hand in hand with a new look: a solo seat emphasizes the Booster's racing look. At all race events, the new look was well received.
Romain took a break for a few years, then it was time for a second spring. And again, it involved optic and engine tuning. At the end of 2013 Romain was able to present a brand new version of his scooter, taking MBK Booster customizing to the next level.
The bodywork by SL Tech was painted in a fantastic candy blue and embellished with various chrome accessories. The solo seat was given to a saddlery where it was given a custom-made cover with "2Fast by TRT" writing.
The chassis was also improved – a Stage6 R/T fork, a Galfer brake disc, a Stage6 R/T 4-piston brake caliper, two brake cylinders with external reservoirs, a front wheel rim for Nitro / Aerox and a Kiesler rear wheel rim, both of them polished.
Having opted for a 2Fast engine to compete in drag races to date, Romain switched to a tuned Malossi Big Bore 86cc set-up. The Booster is now equipped with the following parts:
Crankshaft Spacer 5mm

Inatke Spacer Stage6 34mm

Carburetor Koso 34mm

Ignition Stage6
Transmission Kit Overrange

Clutch Stage6 Torque Control MKII

Transmission straight teeth Malossi and Polini

Performance at the wheel ≈ 25 hp