ScooterPower Trophy: Schedule 2019
After last weeks's announcement of thedates for the Drag Racing Season 2019, ScooterPower now published the dates for the upcoming SPR Trophy.
There will be five official events between March and October. If you want to know more, just read on!
ScooterPower Trophy: Everybody's Welcome!
The ScooterPower Trophy was introduced in 2018 and was right from the start very well-received by amateur riders who were happy to have the opportunity to participate in a competition without being required to have lots of technical how-how, race experience or a big budget.
In 2019, the single-brand racing series is back again, with 5 events in central France (Mer, Villeperdue, La Châtre, Soucy, Salbris). Like last year, the winner will win a 70cc Stage6 R / T engine.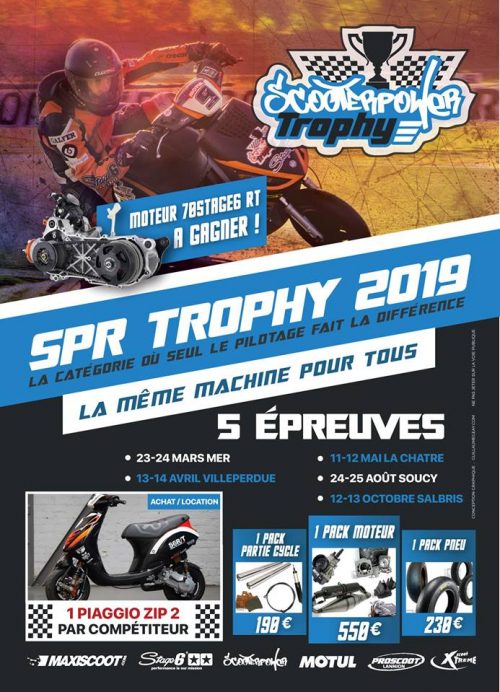 More Info on ScooterPower Trophy 2019

Just like in season 2018 all pilots will race on a Piaggio Zip 2 ab Bj. 2000 with Stage6 engine, Stage6 chassis and Stage6 tires.
Engine tuning and chassis modifications are not allowed to ensure that the focus is on the participants' riding skills.
CHECK STAGE6 ENGINE KITS
Der Wettbewerb besteht aus 5 Events:
Mer, 23 + 24 March
Villeperdue, 13 + 14 April
La Châtre, 11 + 12 May
Soucy, 24 + 25 August
Salbris, 12 + 13 October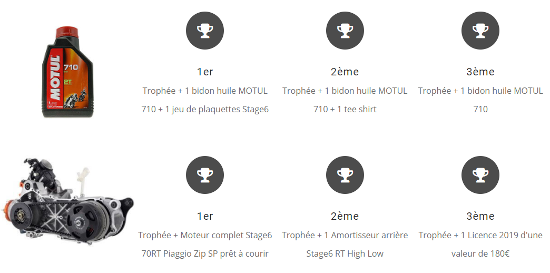 The first 3 places will receive race quality engine oil and brake pads.
The winner of the ScooterPower Trophy 2019 wins a complete Stage6 RT 70cc Engine worth € 2,500 – awesome! A fantastic new set-up to tackle next season!
DETAILS ON SCOOTERPOWER TROPHY
ScooterPower Trophy 2019 in Images