ScooterPower Drag Challenge: Schedule 2019
ScooterPower has recently released the dates for the upcoming Drag Racing season. There will be a total of 4 events in 2019: 1 event for free test runs and the 3 official stages of the Drag Challenge:
Open Day on March 3
Drag Day #1 on April 20 & 21
ScooterPower Weekend on July 6 & 7
Drag Day #2 on October 19 & 20
All meetings will be held at the Kart Track Salbris (41300). Salbris Kart track (41300). There will be 2 tracks that can be used at all events: the 150-metre straight for drag racing and the 600-metre kart track, where all riders can practice, improve their skills and check and adjust their vehicles.
And just like every year, the state-of-the-art time measuring system by the DSSC will precisely record all relevant times – Reaction Time, Elapsed Time and Top Speed – and display them on two gant screens in real time. And just like every year, all pilots can use the  Maxiscoot test bench for free.
To participate, each rider must register and make sure that all rules and conditions of the des technical regulatons are met. There will be 3 new categories this year:
Dragster Mecaboite (geared moped)
Open 50 Scooter
Open 50 Mecaboite (geared moped)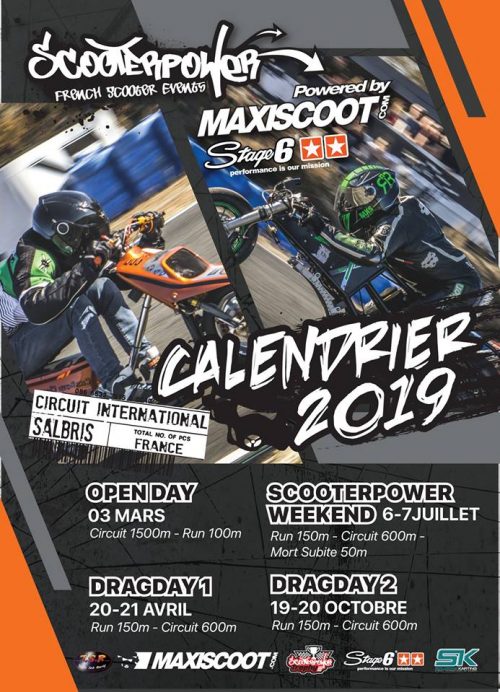 Werdet ScooterPower Mitglied und genießt viele Vorteile!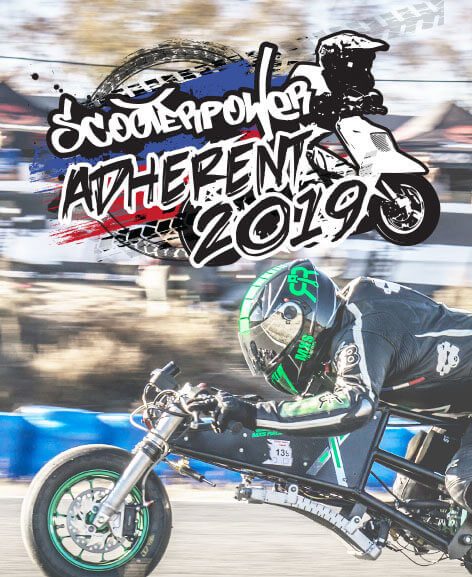 As a reminder: ScooterPower allows 200 riders to get a  membership so they can have even more benefits in the upcoming season:
free registration for all Drag Challenge events
10% discount at Maxiscoot
acumulated rider points for all races
one-time only technical inspection
T-shirt SPR 2019 Limited Edition.
ONLINE REGISTRATION
Our photographer will capture the best moments of the ScooterPower Season 2019 and then share them on Facebook, Instagram and Snapchat. Follow us so you don't miss a thing!
Overview Drag Challenge 2019
| | | | |
| --- | --- | --- | --- |
| EVENT | DATE(S) | DRAG RACING | CIRCUIT TRACK |
| Open Day | 3 March | 100m | 1500m |
| Drag Day #1 | 20 & 21 April | 150m | 600m |
| ScooterPower Weekend | 6 & 7 July | 150m / Sudden Death 50m | 600m |
| Drag Day #2 | 19 & 20 October | 150m | 600m |
This should answer all questions about the Drag Challenge 2019.All you have to do now is tune your bikes to prepare for the racing season. Maxiscoot will give you a hand, you will find discounts and sales in our web shop on a regular basis.