Peugeot Trekker 2Fast & Nos by Soldier
We present various custom projects in our Maxiscoot Forum. Some feature unique designs and out-of-the-box ideas, others are equipped with top-of-the-line performance parts and sport a flawless finish. The Peugeot Trekker by Daniel aka Soldier, founder of brand Easyboost, combines looks and performance in an excellent way.
This custom bike with its yellow-red paint and a 2Fast engine with nitrous oxide injection (NOS) never fails to impress and in time evolved into an eye-catching high-end racing machine.
The Peugeot started its career as a tuning project in 2005 and has undergone many changes since then, each one a little better and more impressive than the previous ones. Here are the details.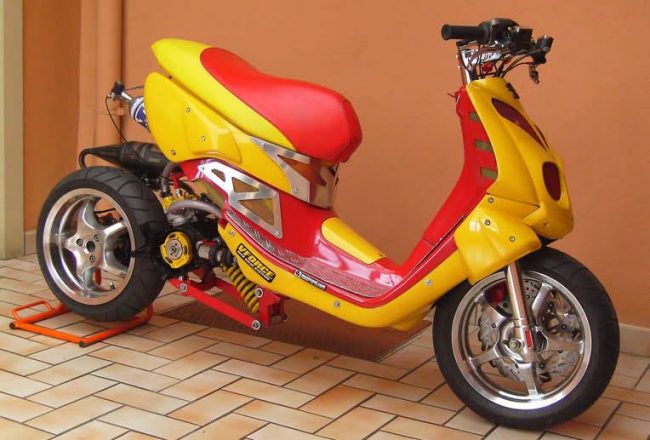 VERSION 1 - METRAKIT PRO RACE
In 2005 Daniel decided to present his tuning project in the Maxiscoot forum. From the beginning it was clear that this would be a rather unusual undertaking; while most tuners are going for MBK Booster, Nitro (Yamaha BW's, Aerox) and Piaggio NRG, Daniel picked a brand new Peugeot Trekker Metal X.
For the mechanical engineer to-be, it was out of the question to limit himself to the few accessories and tuning parts that were (and are) available for Peugeot Trekker. Daniel wanted to be as innovative as possible, and so he adapted and modified everything and if necessary made the parts himself to turn his scooter into a real racer.
The first modifications were made to the engine. As a first step, a Yasuni C16 exhaust originally made for Piaggio was modified.
To do so, Daniel heated the stinger pipe to change angle and direction, so he could fit the silencer behind the bracket. Then he cut and welded the header pipe and finally checked and adjusted the exhaust flange angle.
Then a 4mm spacer got modified to raise the Metrakit Pro Race cylinder for Piaggio NRG a little. Daniel then designs a special connection for the radiator hose.
Last but not least, Daniel enlarges the intake tract, since he wants to use a custom-made Big Valve kit.
To get maximum power out of his engine, Daniel chooses the best performance parts on the market:
Ignition Italkit then Malossi
Carburetor Koso Ø28 mm
Karting Air Filter Box then Air Filter Stage6
Clutch Stage6
CVT and Torque Drive Malossi MHR
Drive Belt Malossi
At the same time Daniel is working on the chassis of the Peugeot Trekker. Frame and brake calipers are painted red.
Daniel modifies a front drive train designed for MBK Nitro, this included a fork (triple tree and and polished tubes) and a polished rim with Michelin Pilot Sport tire. A 280 mm brake disc from Stage6 was added to provide optimal braking performance.
The cockpit was made much lighter by mounting a downhill-handlebar with matching TNT clamp. Daniel opted for a polished XXL rear wheel by Kiesler and a Doppler shock absorber (gas / oil) for the rear end to achieve optimal road holding.
Daniel also put some additional cut-outs into the variator cover for visual and technical reasons (better cooling of CVT) and gave it a fine polishing.
When it came to looks and customizing, Daniel did not take the easy way but instead chose to make many parts himself. First he cut the fairing parts to size, they are then sanded and painted yellow and red. The eye-popping colours turn the scooter into an absolute eye-catcher. Daniel entrusts a professional with the making of a custom seat to create a perfect and harmonious look.
Daniel took great care in every detail of this tuning project to create a unique prototype, tis included replacing the original radiator covers and installing new galvanised aluminium foot plates.
After everything was finished, Daniel's custom Trekker immediately became the highlight at every event. The project became a hot topic in the Maxiscoot Forum as well.
After presenting his Trekker at various events and meet-ups, where he also showed off his stunt skills, Daniel got back to working on his bike.
He started by moving the engine back a bit with the help of a self-made subframe. The extension of the wheelbase is a clear sign that Daniel was after more power and more speed.
The intake is optimized: Daniel replaced the existing intake with Polini intake manifold and reed valve with a custom made bracket to mount a Vforce CR85 reed valve.
The Yasuni C16 made room for a Metrakit Pro Race exhaust, which is louder but more powerful. Finally, engine performance is boosted with a NOS kit – drag racing at its finest!
VERSION 2 - MALOSSI MHR TEAM 2
A test at the Maxiscoot test bench measured a whopping 17,8 hp at the wheel. Daniel wanted even more power, so he went back to the workshop to improve his set-up.
New Peugeot cases were modified to fit a new Malossi MHR Team 2 cylinder.
First a Malossi MHR Team 2006 exhaust was installed, which was then replaced by a Cristofolini Racing system.
The set-up was compemented by other performance-enhancing components .Daniel opted for a Koso carburetor Ø32 mm, a Polini drive belt for Piaggio, a Malossi Wing Bell clutch bell and a 15/33 transmission ratio.
After the Trekker modelled for a photo shoot for the MXS Customs Calendar 2007 Limited Edition, the chassis was again modified. Daniel lowered the front suspension / fork (type Nitro) and designed a central suspension.
In addition, he equipped his scooter with high-quality Stage6 parts:
Adjustable Handlebar Clamp
Mini Thermometer LCD
Power Test Accelerometer
Brake Cylinder Covers
Bike Stand / Paddock
At the ScooterPower Weekend 2009 Daniels tuned Trekker was still partof the action, this version was powered by a 2Fast cylinder. We wish her a well deserved retirement, and we will always remember her!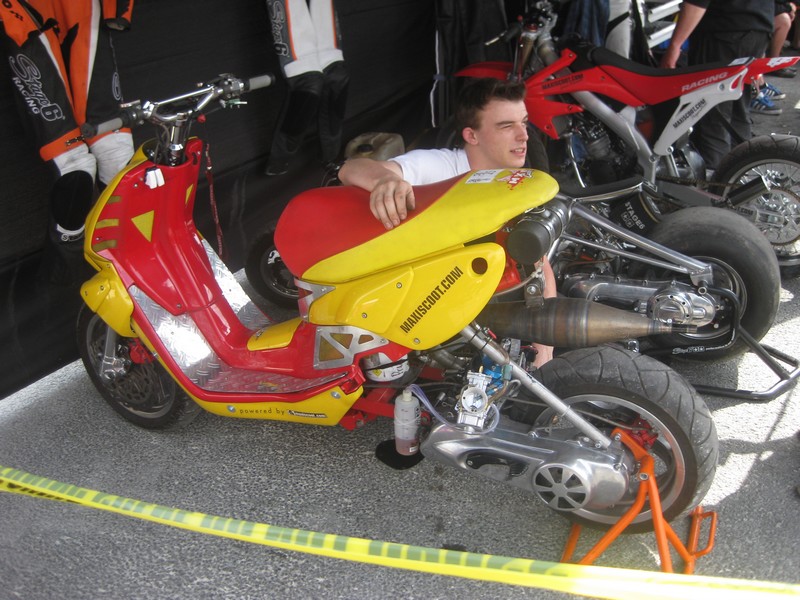 EVOLUTION TREKKER 2FAST BY SOLDIER IN THE MAXISCOOT FORUM