Every year in August, the famous Speed Week is held on the Bonneville Salt Flats in Northwest Utah, USA; it is all about setting new speed records with vehicles of any and all kinds.
For the 2018 event, the Bidalot Expresso Team, consisting of French and American racing and tuning freaks, has developed a very special drag bike, the "lakester", to try to set two new world speed records in the 50cc and 100cc category.
And they achieved their objective with the most striking success: the custom built is now officially the world's fastest 50cc and 100cc racing engine! Maxiscoot followed the French team's trip to the US and would like to share their awesome success story.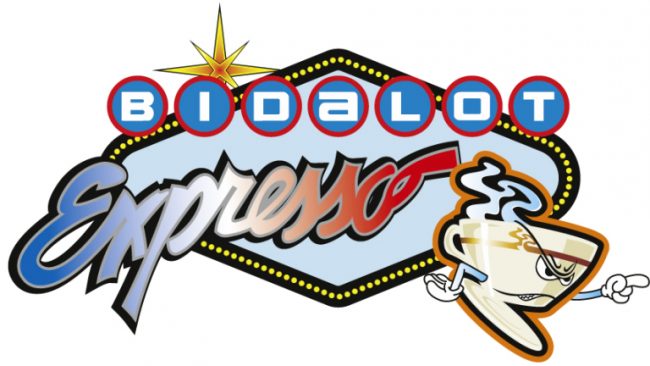 The Bonneville Salt Flats, or Great Salt Lake Desert, is a large dry salt lake at 1280m altitude. The salt-covered, extremely flat surface makes the Bonneville Flats ideal for speed records.
The world-famous flats host the traditional Speed Week, where every year all types of vehicles try to set new speed records at the Bonneville Speedway.
Since 2012, the Bidalot Expresso Team, consisting of Philippe Danh (Logistics USA), Arnaud Bidalot (Tuning), Arnaud Sénégon (Rider) and Phil Berté (Design), have been intent on setting new world records with an 80s style inspired lakester drag bike.
In order to increase their chances at winning on the Bonneville Flats, the team has used state-of-the art technologies and techniques for designing their drag bike: CNC machining, cutting and bending with digital press and metal folding machines and TIG welding assembly.
LAKESTER BIDALOT EXPRESSO
The Bidalot Expresso drag bike is equipped with only the finest parts available:
engine by Bidalot
exhaust by Bidalot
aluminium chassis and fork
magnesium light alloy wheels
plastics by Xtrem Concept / paint job by Wadz
titanium screws
OBJECTIVE 1: 50CC WORLD RECORD
Two days were reserved for all the obligatory formalities – administration / registering, technical inspection and the briefing of the South California Timing Association (SCTA), then all participating teams had the opportunity to make some final adjustments for the actual races. Each run is is held like this: 1 mile to accelerate (1.609 km), then 1 mile for official time measurement, followed by the deceleration phase.
The Lakester Bidalot Expresso #5964 (the traditional #964 was combined with #5 for 50cc) with pilot Arnaud Sénégon was ready to rumble!
The Lakester was registered in the APS/G 50cc category (PS for Partial Streamliner, meaning with aerodynamic fairing), and Arnaud had to break the 84.362 mph / 135.767 km/h world record to qualify and be able to set a new record. Done deal – on August 11 he drove 86.845 mph / 139.763 km/h. Thumbs up!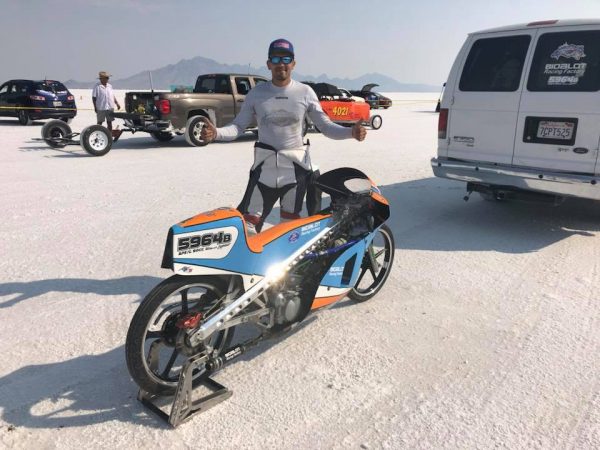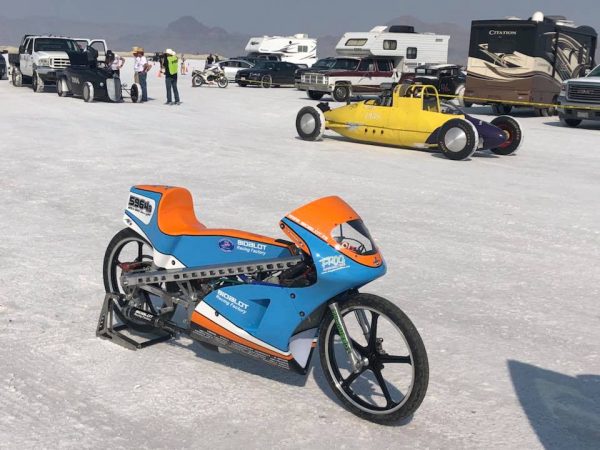 On  August 12, Arnaud was making history by doing 96.181 mph / 154.788 km/h for his certified record. The world record was officially certified at a speed of  91.539 mph / 147.317 km/h!
On August 13, Arnaud broke his own record at the return record run in the APS /G 50cc category; his time was almost identical to his qualifying time: 96.233 mph / 154.872 km/h. Definitely an incredible performance that made him the fastest rider on a 50cc two-wheeler.
After the official record was certified in the morning, Arnaud reached 97.756 mph / 157.323 km/h in his last run. And on August 14 things went completely nuts – it managed an incredible 100.397 mph / 161.573 km/h! Awesomeness!!
OBJECTIVE 2: 100CC WORLD RECORD
After this outstanding performance in the 50cc category, the team was in high spirits and set out to equip the Lakester with the 96cc engine to then try to beat their own 2016 record of 107 mph in the APS / G 100cc category. This worked out fine right from the very start – the lakester reached a speed of 118.086 mph (190.041 km/h) in the first run, 11 mph (17,702 km/h) more than the record. The certified run of 121,208 mph / 195,065 km/h confirmed the record.
On August 15, 2018 the Bidalot Expresso Lakester officially became the fastest 100cc bike in the world with an average speed of 119.647 mph / 192.553 km/h! The previous record was set by Jean Paul and Warren Afflick on a modified supercharged 100cc 4-stroke Honda on Lake Gairdner in Australia.
The proud Bidalot team members decided to record their breathtaking record time with an onboard camera. Arnaud immediately qualified with a speed of 121,194 mph (195,042 km/h) so he could beat his own record.
On the morning of August 16, Arnaud got on the Bidalot drag bike and took everyone by surprise by breaking his own previous-day record, with 1/1000 more mph: the officially measured speed was 118.103 mph (198.068 km/h). With an average speed of 119.648 mph (192.554 km/h) in the two races, Arnaud set the bar very high. We are looking forward to the next Speed Week !
To top it all off, the team decided to re-equip the Lakester with the 50cc engine on Friday, August 17, to give it one more try after acing it in the 00cc class. On Friday morning Arnaud qualified again for a return run with impressive 98.100 mph (157,876 km/h).
In the afternoon Arnaud cracked the 160 km/h barrier by making 99.959 mph / 160.868 km/h. The average speed of these two runs beat the record from August 14 (99,029 mph / 159,371 km/h).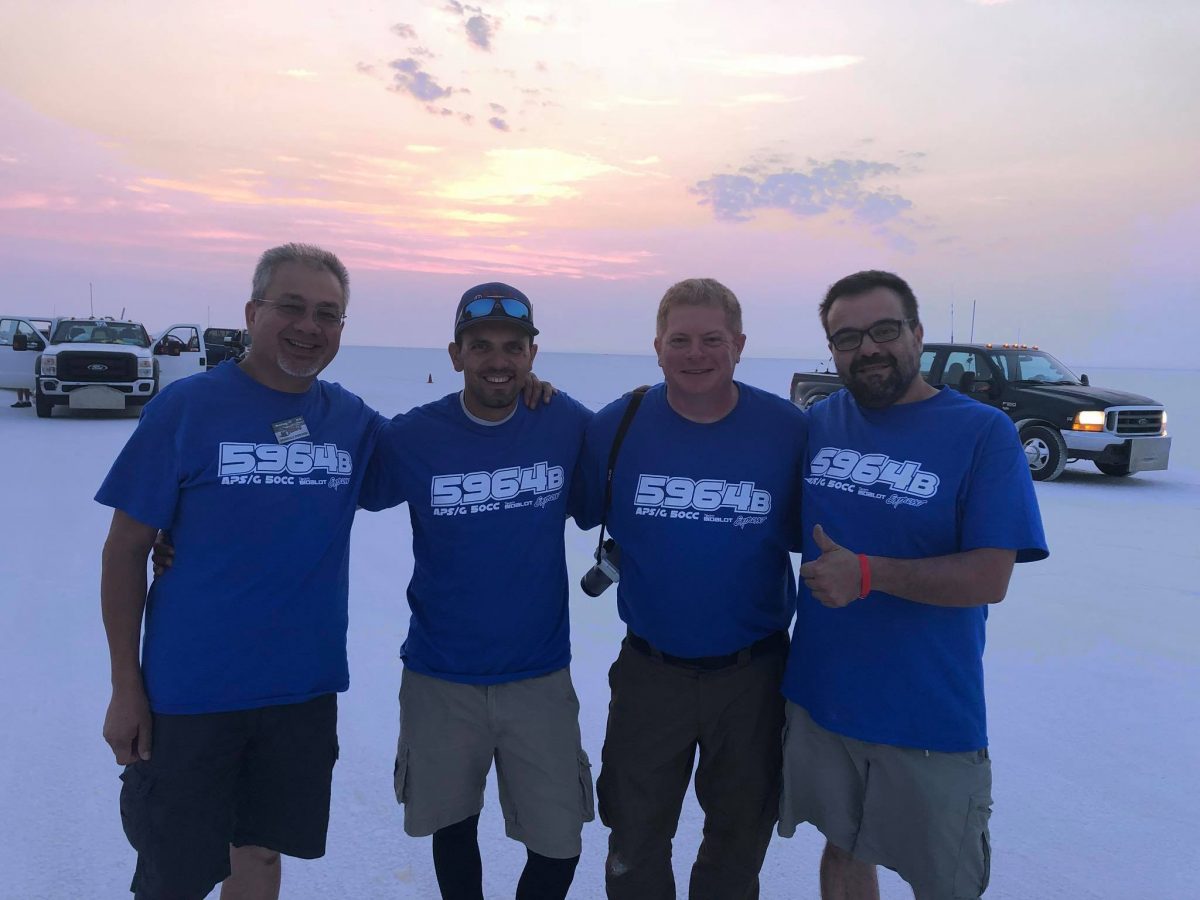 Congrats to the Bidalot Expresso Team for ther outstanding race performances and new world records; we've always had connections to French brand  Bidalot and are happy and grateful for their always convincing innovative tuning products and designs.