Stage6 is a manufacturer of a wide range of tuning parts, including crankshafts for scooters and mopeds.
Up tothis point, Stage6 focused on HPC models for tuned scooters or, for Stage6 R/T products, for highly tuned racing setups.
To complete their tuning parts catalogue and to meet the needs of everyday riders, Stage6 has now launched a new model specially designed for Minarelli vertical.
For only €119, the new LPC crankshaft (Low Primary Compression) stands for improved performance and extreme resistance.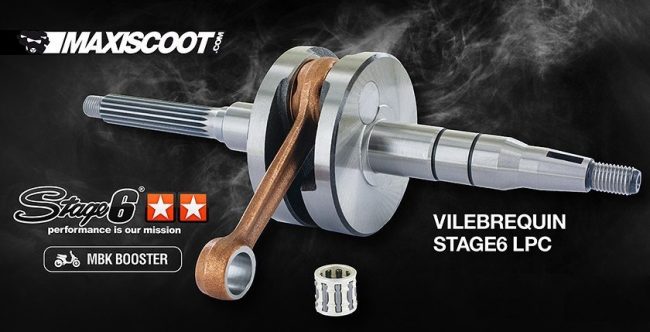 The reinforced LPC crankshaft is manufactured in Italy and, like the high-end HPC crankshafts, is subject to the strictest quality standards for material and production. Specifications:
forged connecting rod for 10mm piston pin (original stroke)
special steel crank webs
silver plated small end bearing 10 x 14 x 13mm
low-friction washers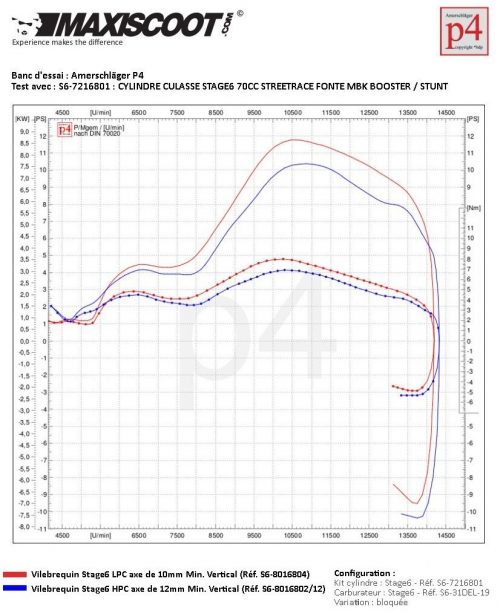 The LPC crankshaft with original stroke is designed for 50cc and 70cc sport / slightly tuned cylinders with low port timings; the power increase is noticeable, and since robustness was not compromised on, the crankshaft can withstand heavy loads.
LPC design in crankshafts means taking away some of the material to reduce primary compression and increase the volume of the crankcase.
This results in a power increase of ca. 1hp compared to a standard or an HPC crankshaft, you can check the preformance curve we determined on our pro test bench.
For best results with the new LPC crankshaft we recommend using Stage6 HQ crankshaft bearing C4 steel cage + oil seals.
You can get a fantastic product for original and lightly tuned engine set-ups for a reaaly fair price – € 119! This crankshaft is also a great choice for young scooter riders who want a little more performance.
MORE INFO