On May 26 and 27 , the biggest endurance race of the year, The Resistance 2018, took place in Zuera, Spain. More than 65 teams and almost 300 riders from across Europe took part.
Team Avgas, powered by Maxiscoot, participated in the legendary event alongside German team Projekt Paul. Antoine, Lucien and Romain went to Zuera on Wednesday to participate in the free practice on Friday.
From the first laps everything worked out fine, Lucien and Romain took complete confidence in and control over the vehicle, which turned out to be really powerful.
During qualifying on Saturday morning Romain took the team to a great sixth place, perfect to take on the competition and start the endurance race under the best conditions.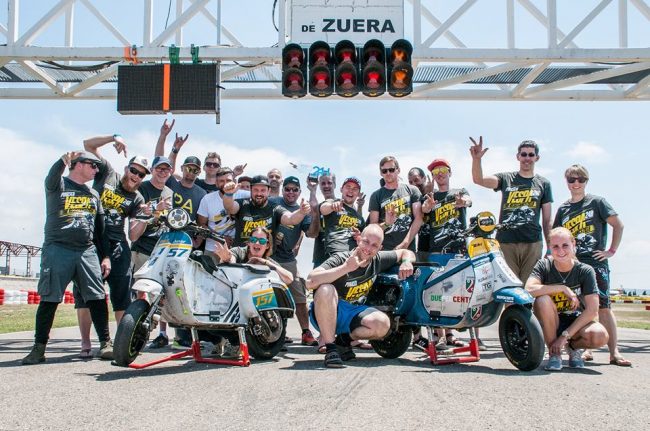 Great Teamwork, Awesome Results
The race started at noon on Saturday. Romain took advantage of the dry track to place himself in the lead group right from the start. After one hour he made it to second place in the overall ranking, then Lucien took over; unfortunately he had to deal with much less favourable road conditions.
The track quickly became quite slippery, necessatating a change from slicks to rain tires. The weather conditions deteriorated even further, race management eventually decided to bring the pilots back into the pits until the rain let off.
After 2 hours of waiting the race was resumed, the road was still wet first, but slowly dried up. The riders continued and took their turn until one of them crashed, which led to some technical problems but had little influence on final rankings.
Fifth in Overall Rankings and Third in SP1 Class
90 minutes before the end of the race the team is 3rd in overall rankings and 4th in class SP1, but outstanding effort and very successful pilot changes finally put the team in 5th place in overall rankings and 3rd place in the SP1 category, with only 6 seconds behind 2nd place!
Team Avgas is completely happy about the results. We congratulate all riders and their common effort and wish them good luck at all follow-up races! Floor it, guys!!!!