Motoconfort N40T 70 cc Airsal T6
We founded our Facebook page in 2009 to have a platform to communicate with the 50cc moped community. News, offers, events and games are regularly published on the news feed of the Maxiscoot site, which is now followed by more than 485,000 people. Our gallery with the most beautiful bikes inspired us to organize a before / after contest.
The principle is simple, just post a picture of your scooter or moped before and after tuning/customizing and add #MxsEvolution in the comment section of the Facebook post or on your Instagram account. Every week the Maxiscoot team chooses the before/after project we like best. At the end of the month, a winner will be chosen, who will then have the honor of seeing his bike presented on the Maxiscoot blog. In February it was Cyril and his Motoconfort N40T that caught our attention.
At first glance, it's obvious that Cyril completely transformed his Motoconfort N40T. The base was an original moped in need of restoration, and instead of returning it to its original condition, as many moped fans like to do, which can be seen on the FB page dedicated to vintage mopeds Les reliques du 2 roues, Cyril went to work and remodeled his moped from A to Z.
Cyril started off by removing the front / rear mudguards and the luggage rack. Then he replaced the original square headlight with a more modern round model with grille and the pedal system with two offset footrests. He also turned the handlebars and moved the rope-wrapped saddle to the rear. Low Rider deluxe! For the ultimate Rat Rod look, Cyril let the surfaces of the fork and frame-tank assembly rust.
As far as the chassis was concerned, Cyril decided to paint the original spoke rims of a 51V blue and added white sport tyres. A custom look should not stand on its own but has to be complemented by an appropriate engine, so Cyril equipped his engine with high-end parts: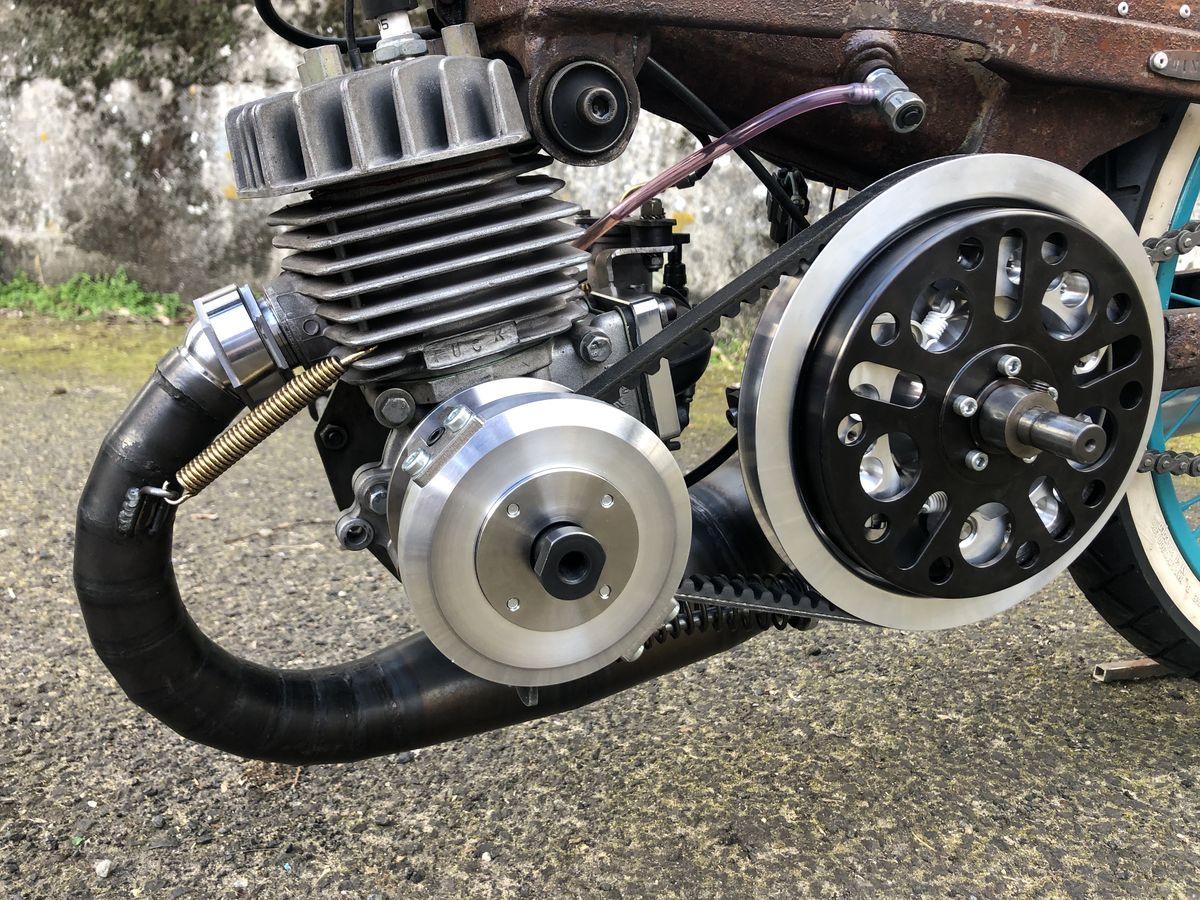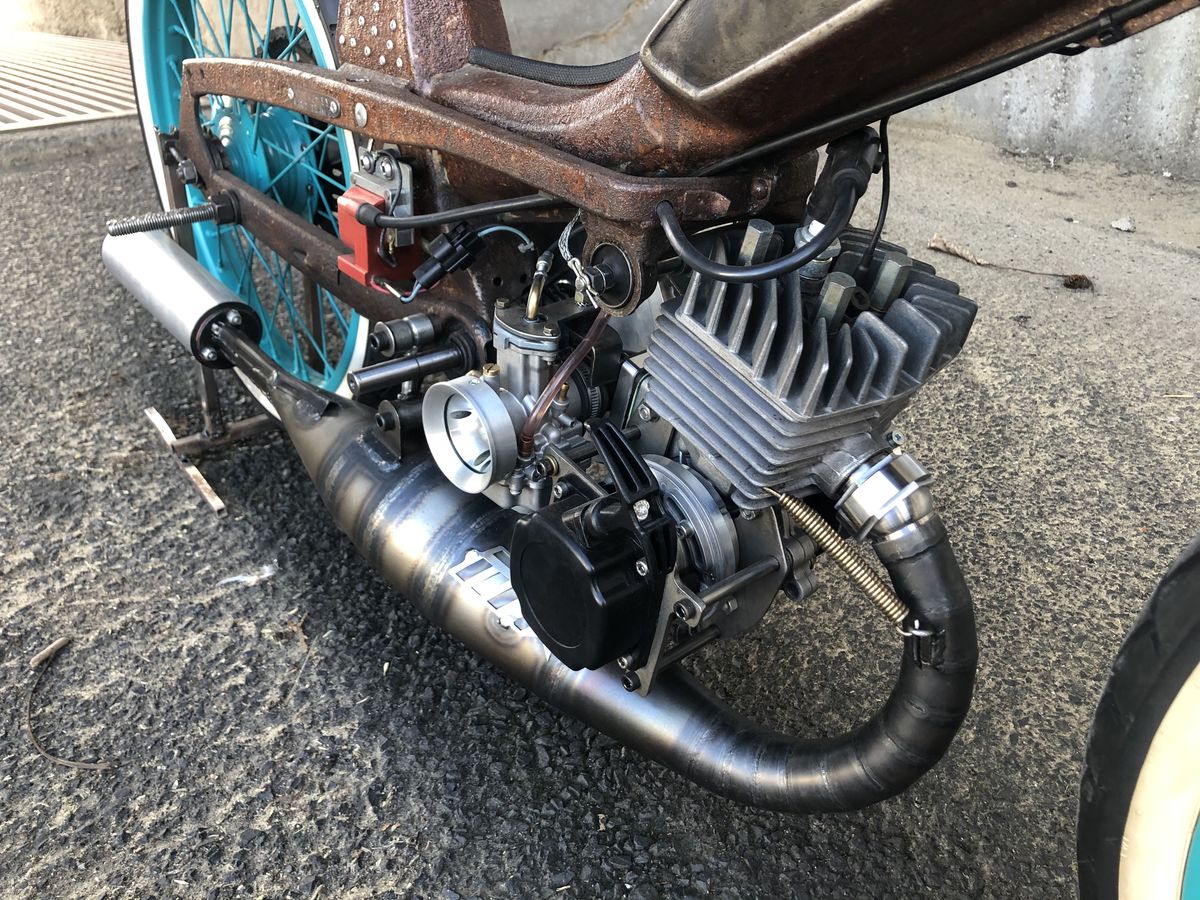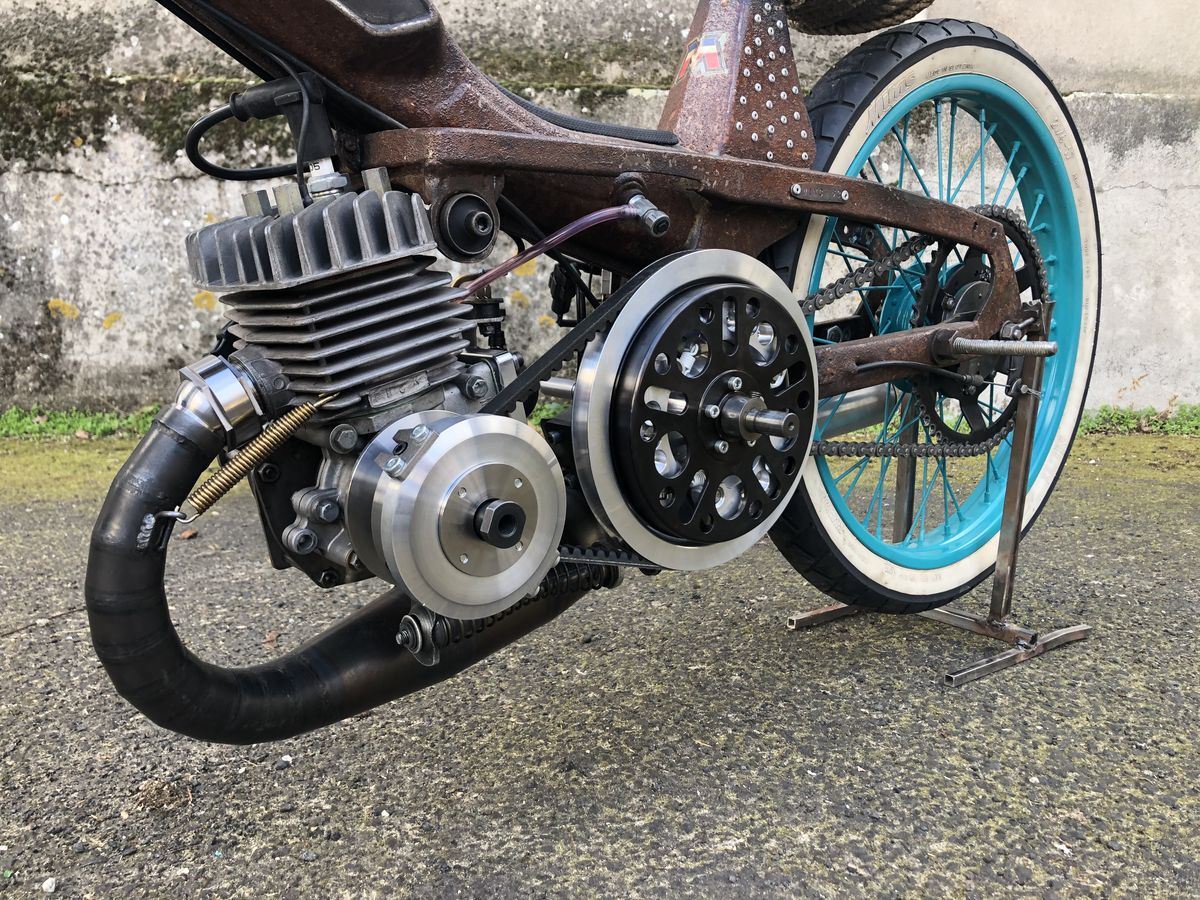 lightweight piston
custom made intake manifold
ignition PVL 500104
spring Bidalot CF for Doppler
exaust MR adjusted to cylinder port timings
pulley Chaligne (replica)
variator Bidalot G1 / G2 steel (replica)
flange Bidalot (replica)