MBK Booster LC West Coast by Mister MHR
Arnaud, better known under his pseudonym Mister MHR in the Maxiscoot Forum, is one of the figureheads in the 50cc community and also an active member of Team ScooterPower.
For several seasons, he has been participating in the Trophée Grand Ouest on his Piaggio Zip for Team Maxiscoot, but when he first started out it was on an MBK Booster with Nitro (Aerox) engine.
The dragster bike is equipped with SL Technologies plastics, polished 13-inch wheels, an aluminum chassis and a 2Fast engine and has made a lasting impression on the 50cc tuning scene.
Like many race bikes, the Booster has undergone various changes and developments, and it has become more powerful and beautiful at each step. We have compiled all the details for you.
In 2005, Arnaud, proud and happy owner of an original Yamaha BW's built 2001, starts customizing his scooter. The original fairing panels and a BCD underbody spoiler are painted a Seat Leon Cupra R yellow. They make a great contrast with the BCD Evolution twin headlight mask, the floorboard, the underbody, the BCD side spoilers, the seat, the underseat by BCD and the  Rocket wheels that were alsp painted white. Two Fox stickers were put on both sides of the tail, plus a smaller one on the lower part of the inner front fairing.
The original cockpit gives way to a carbon look stem and an anodized blue mountain bike handlebar that go well with fan wheel, air intake, shock absorber mount and oil reservoir. The tail light turns clear – the original model is replaced by a modern Lexus Style clear glass tail light.
After completion of the visual makeover Arnaud now goes about tuning the engine. He opts for high performance parts such as: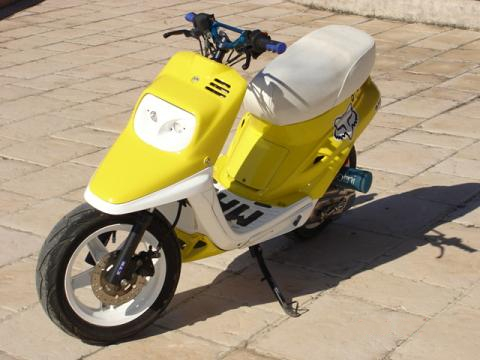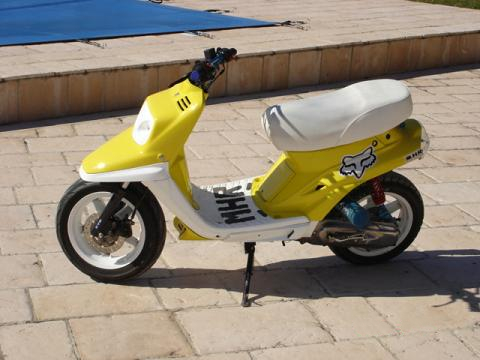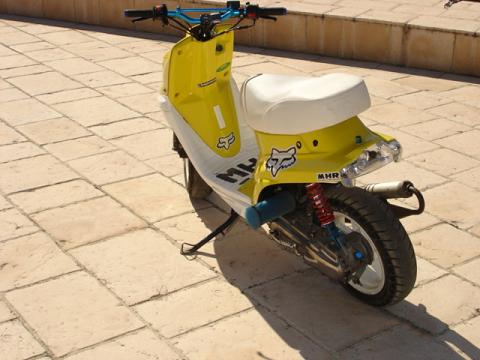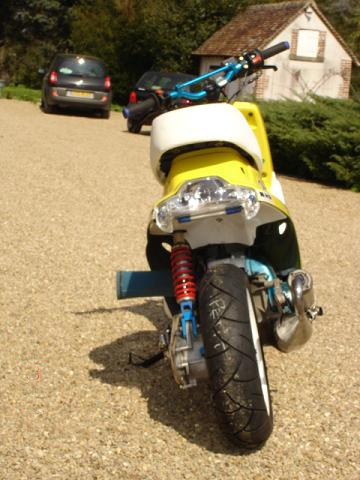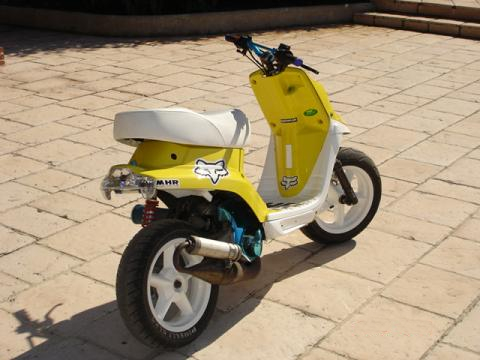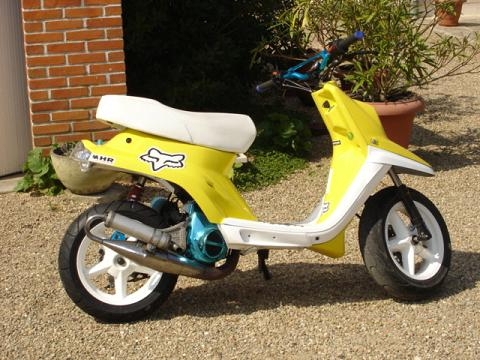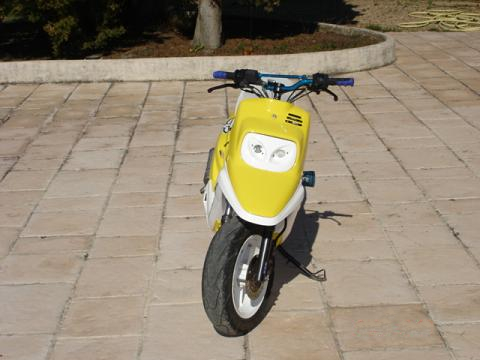 Cylinder 50 cc Doppler
Carburetor Doppler Ø17.5 mm
Variator Doppler S1
V-Belt Malossi
Clutch Malossi
VERSION 2 - STAGE6 RACING LC
At the end of 2005 Arnaud decides to modify the frame. He welds a mound for an Ovetto crankshaft, the engine is equipped with the following engine parts:
Cylinder 70 cc Stage6 Racing MKI
DIY Spacer + Intake Manifold Malossi
Exhaust Stage6 R1200
The lights disappear, the blue handlebar is replaced by a white TNT model. In addition, a Peugeot 103 radiator is placed behind the front fairing.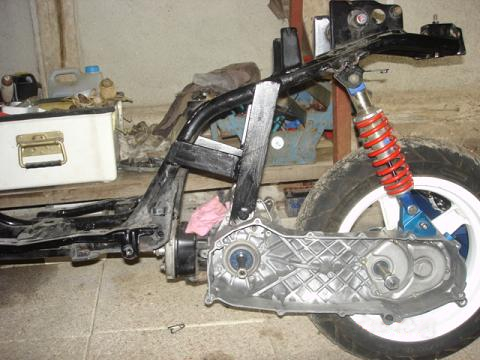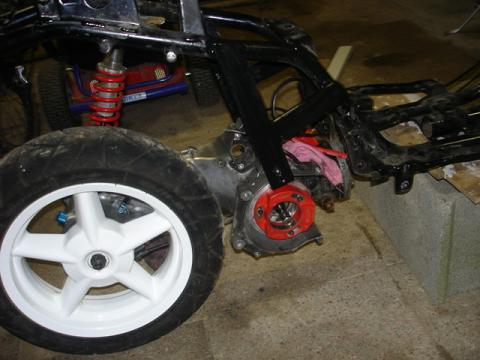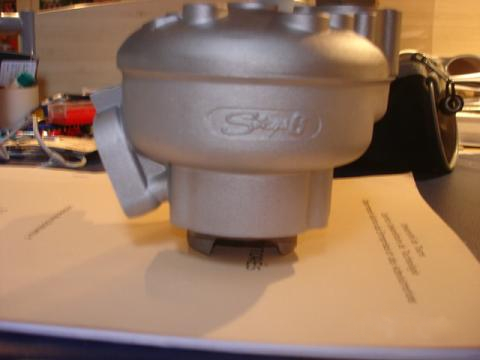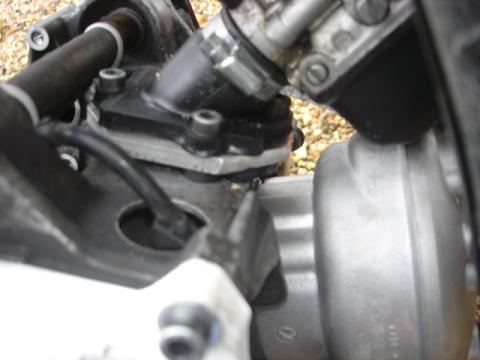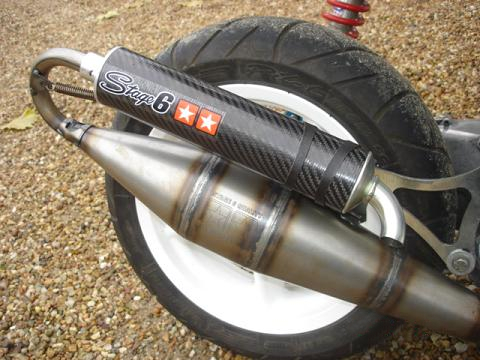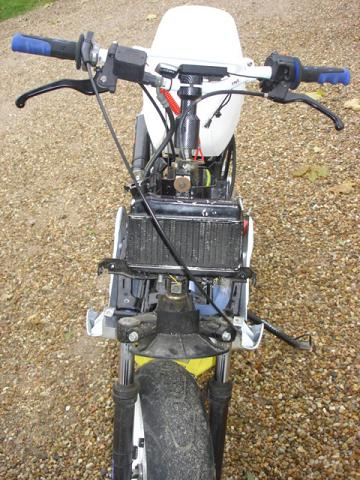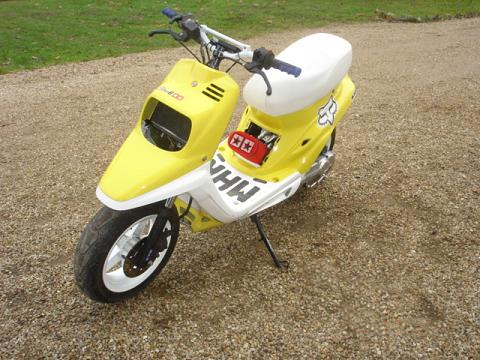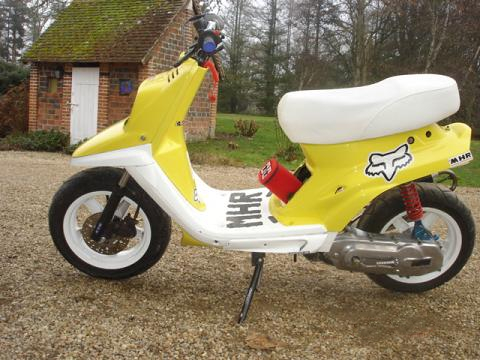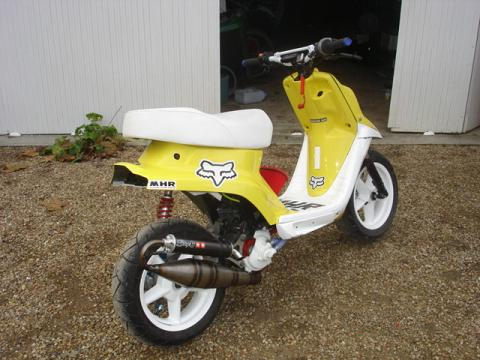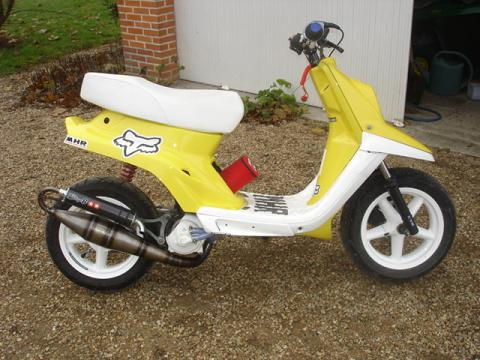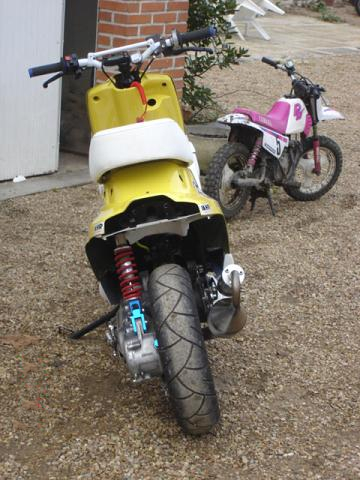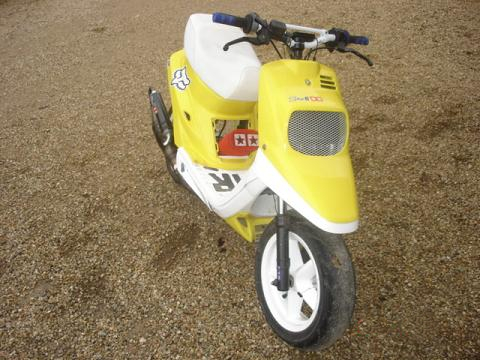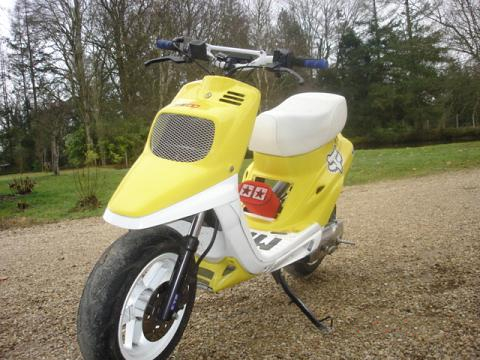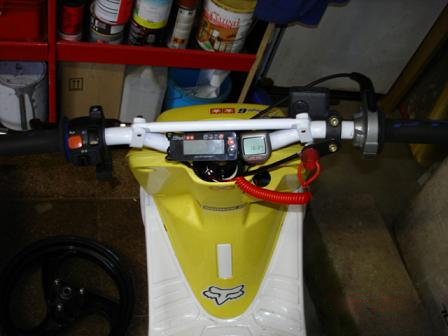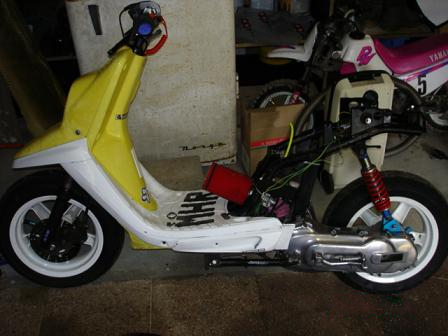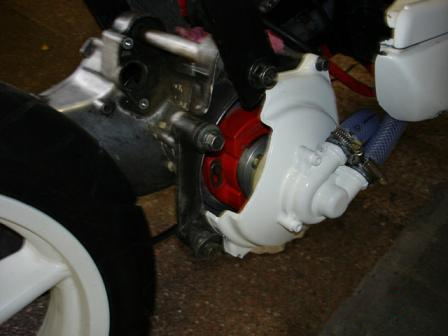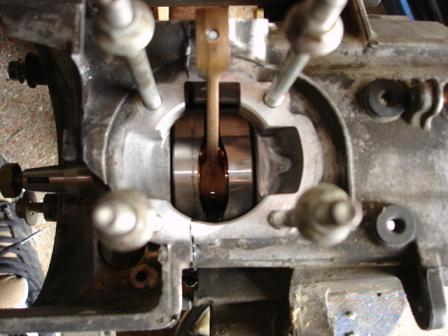 After the scooter was featured in the magazine 50 Riders, Arnaud decided to change the engine completely.
VERSION 3 - MALOSSI MHR TEAM LC
Arnaud is becoming more and more active in the 50cc race and tuning scene and decides to boost the set-up once more to increase his chances of winning drag races. He has the case machined and milled precisely to complement his new cylinder. The set-up now looks like this: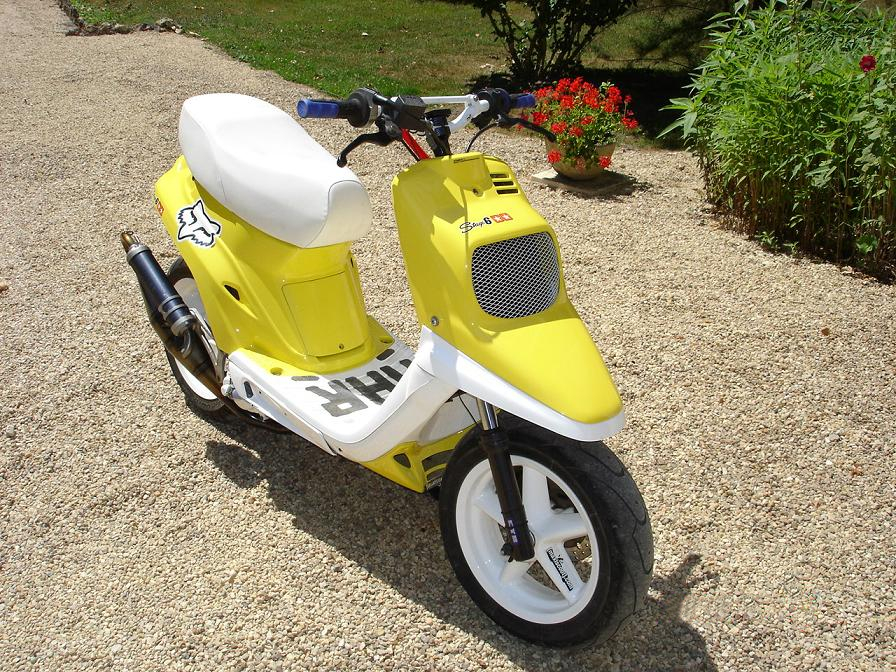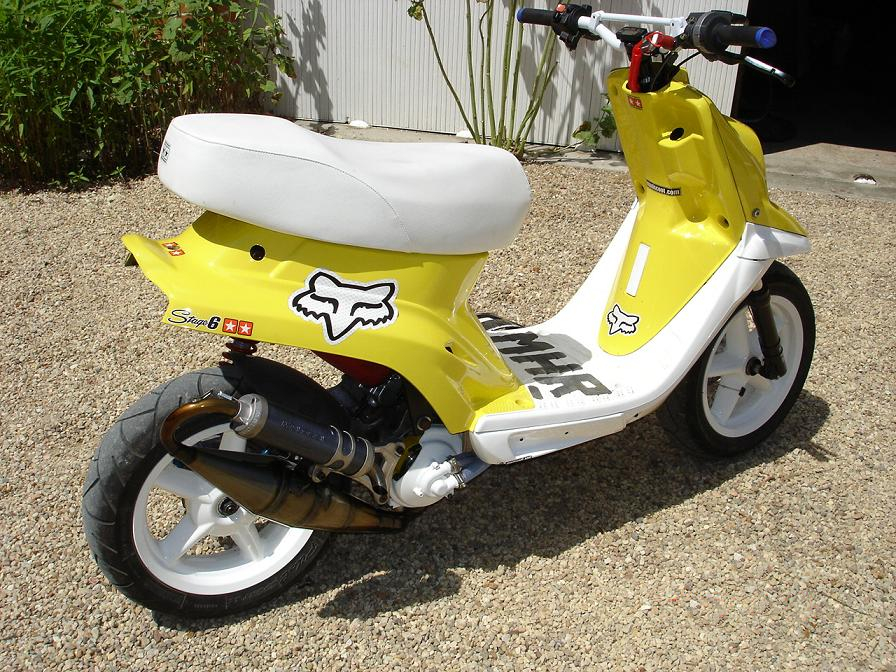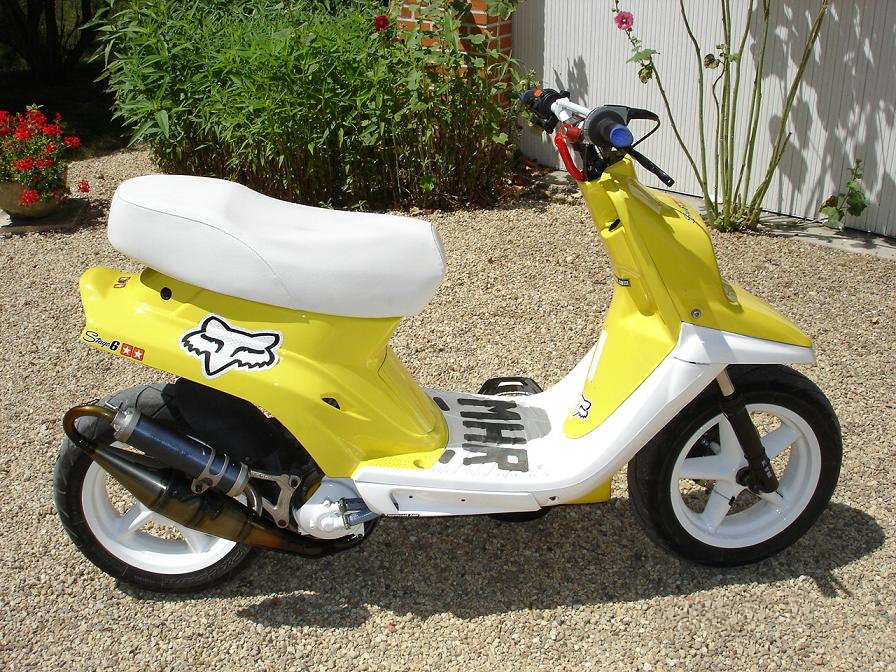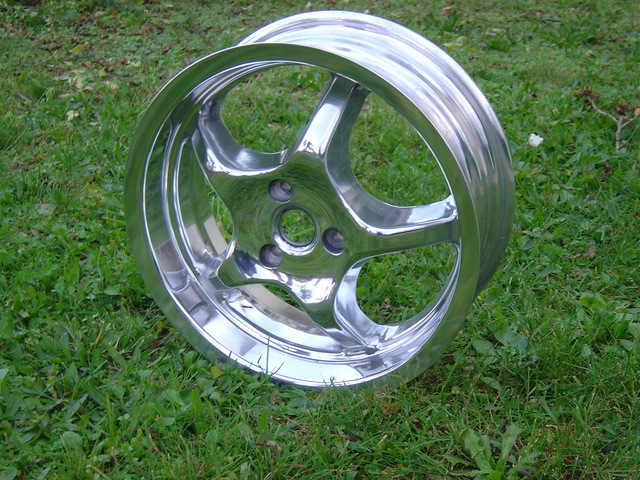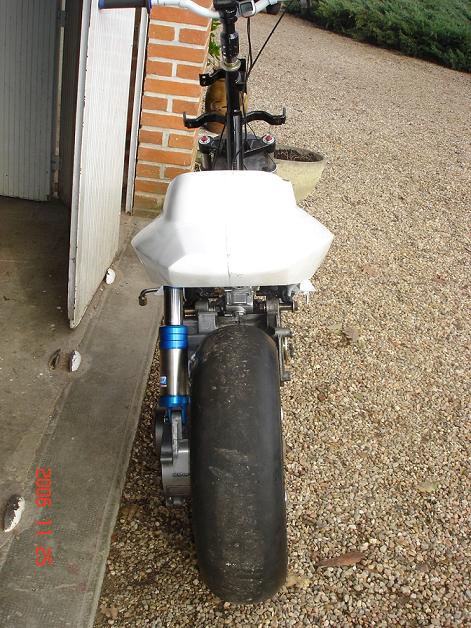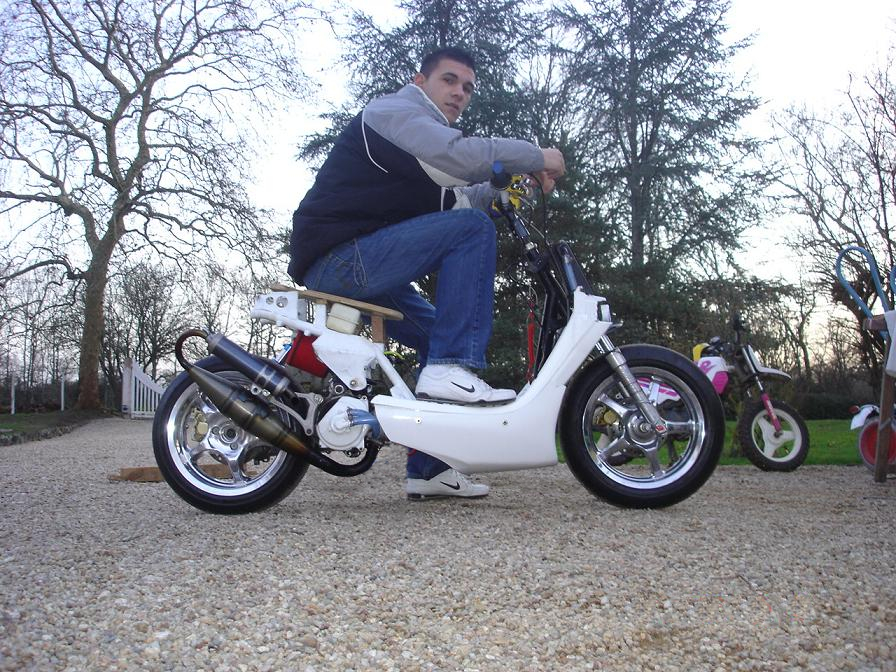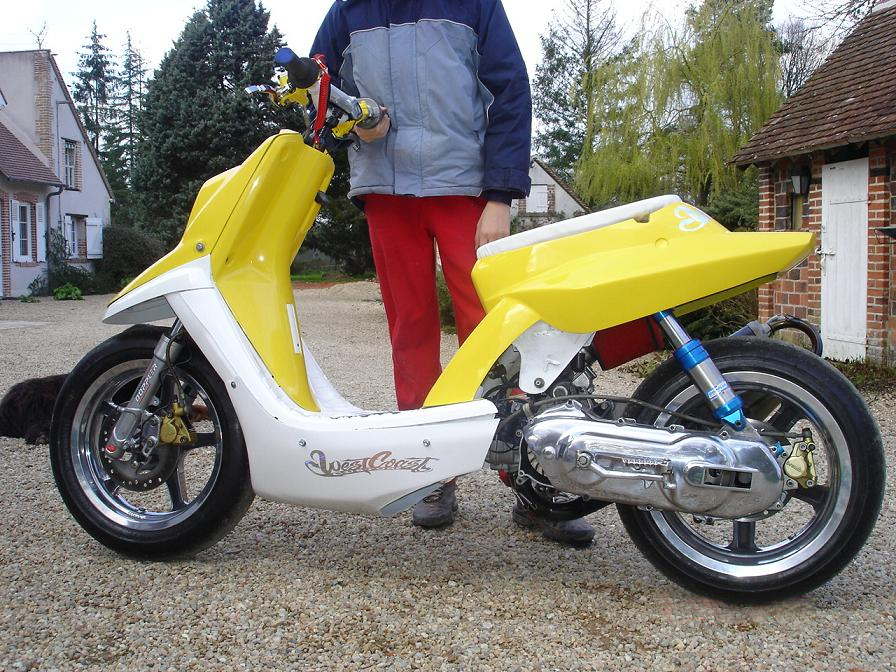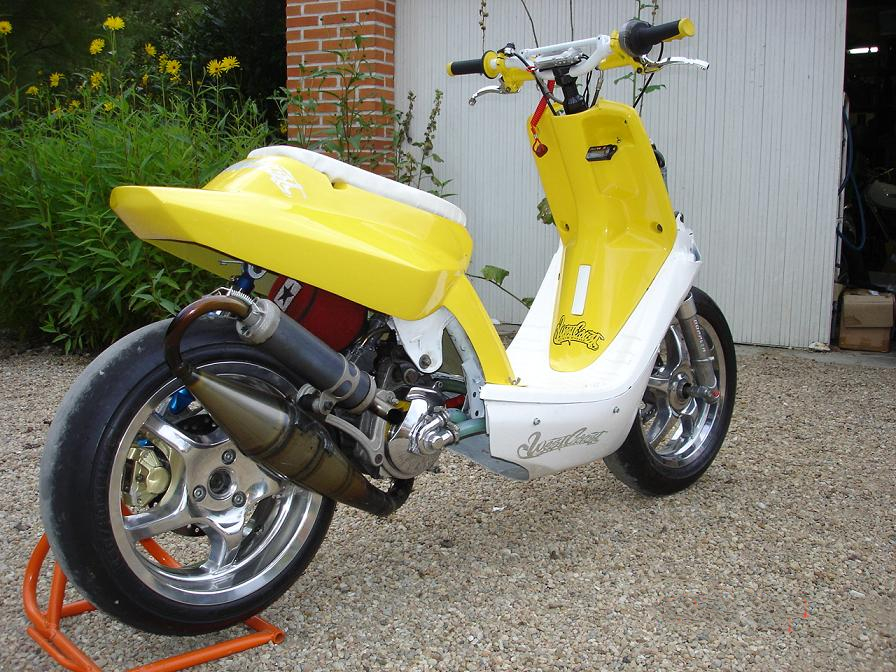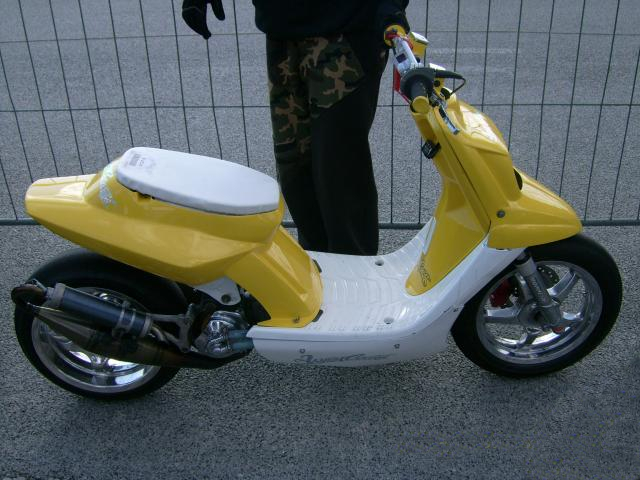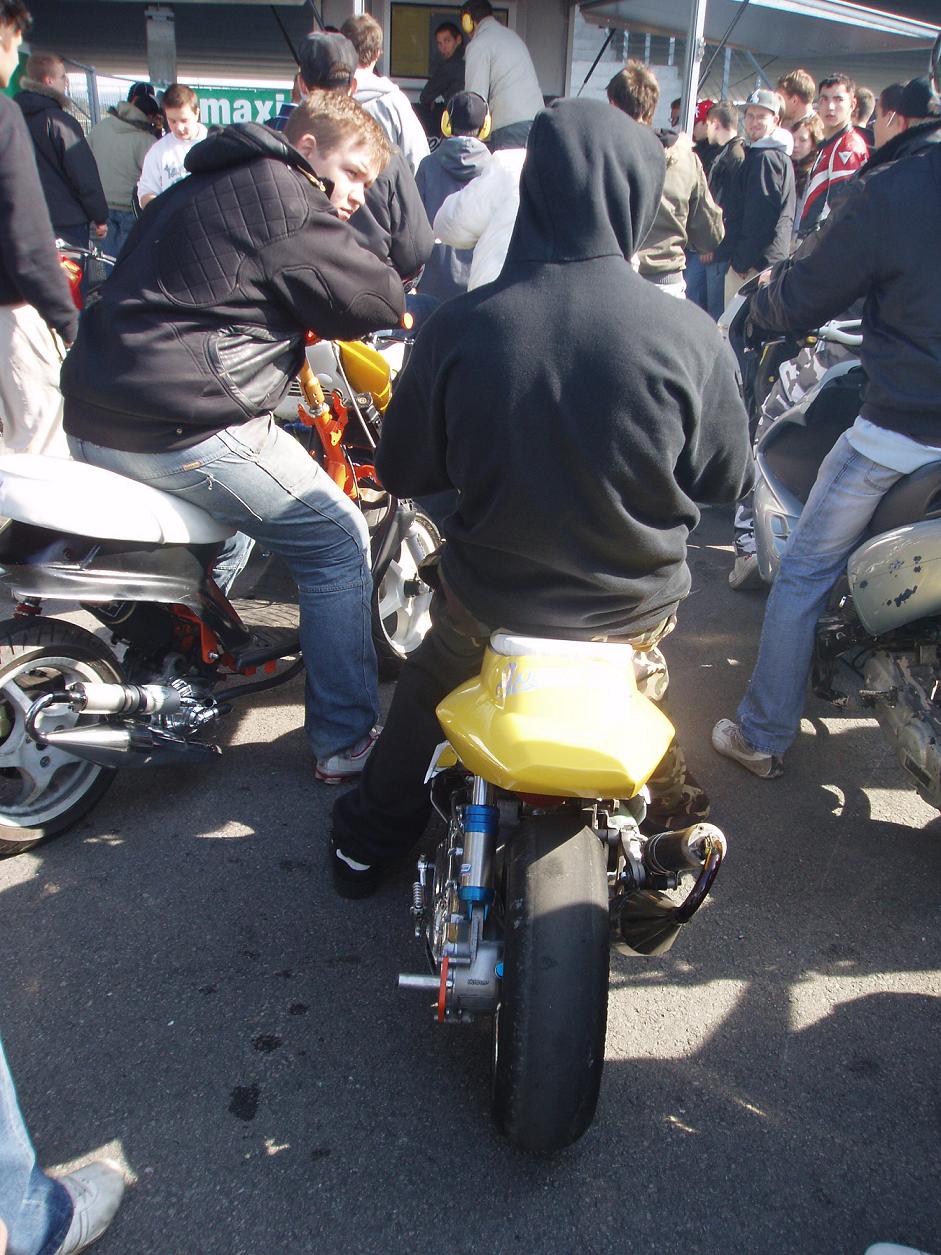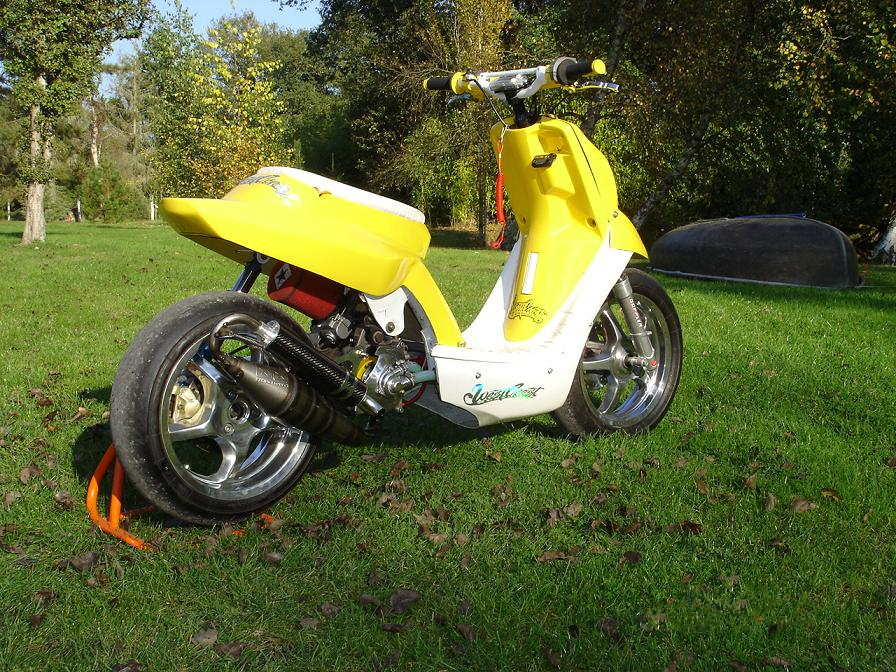 Crankshaft Stage6 Team
Spacer Kiesler + Intake Manifold Malossi MHR Piaggio then TVX

Carburetor

Koso Ø28 mm

Exhaust Malossi MHR Team 2006 then Stage6 R1400
The new setup yields a whopping 19 hp on the P4 test bench. In addition, the chassis and frame are modified to allow for installing an engine mount for Ovetto and placing the intake over the rear wheel.
Arnaud then sets about improving the handling of his Booster. He equips it with a new fork at the front and a hydraulic shock absorber by Doppler at the rear.
The 12″ wheels are replaced by polished 13″ rims (Nitro / Aerox at front, Kiesler at the rear), they are then equipped with Stage6 racing slicks.
The aestetics get a complete overhaul as well, once again. The original rear plastics disappear and give way to a rear fairing panels from SL Technologies, which are combined with an underbody for Nitro / Aerox and a new floorboard.
Everything is taken to the paint shop, the front and rear panels and brake cylinders are painted a Seat Leon Cupra R Yellow. The frame, the floorboard and the underbody are painted white and perfectly complement Arnaud's flat seat.
The new look is rounded off with some West Coast stickers – 100% Low Rider Style!
Booster West Coast im Scoot'n Scoot Magazin n°159
At the end of 2007 Arnaud in his search for even more goes Italian – he picks many tuning parts by Italian manufacturers
The new engine set-up consists of:
Crankshaft 2Fast

Carburetor Koso Ø30 mm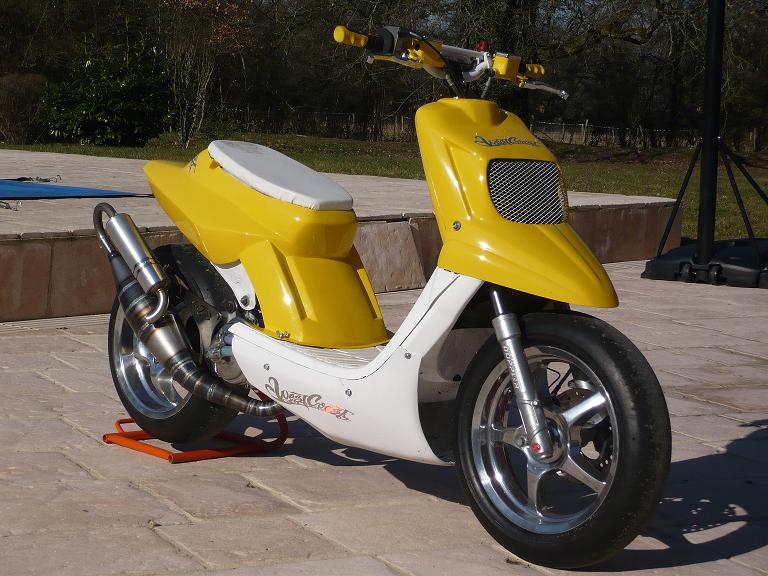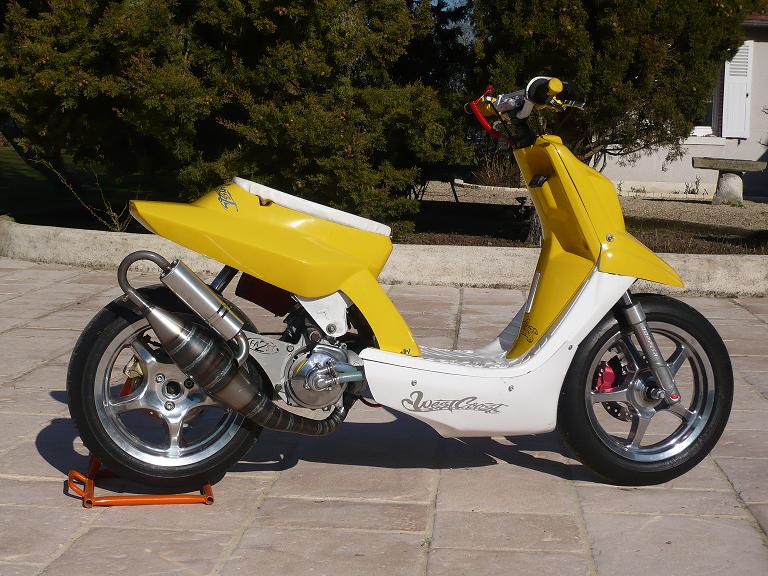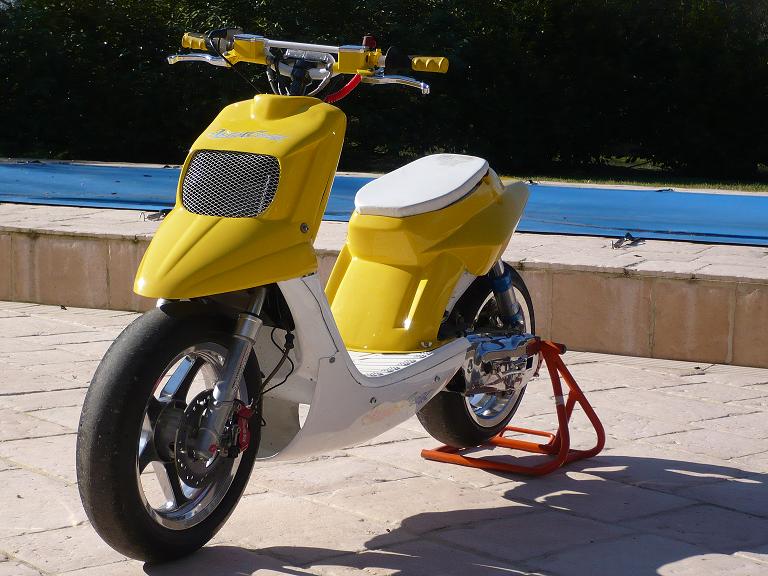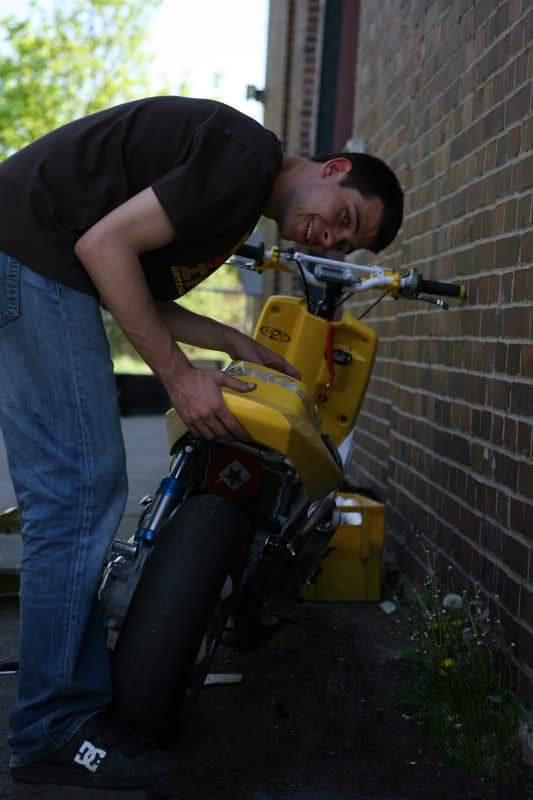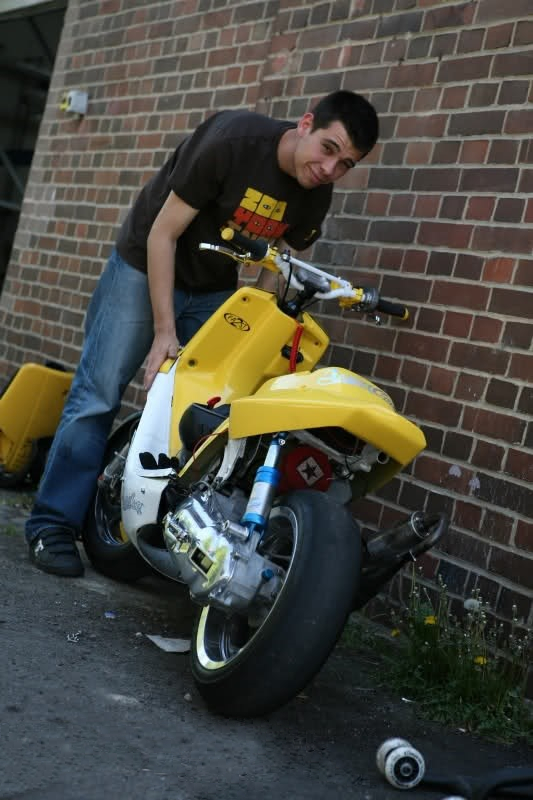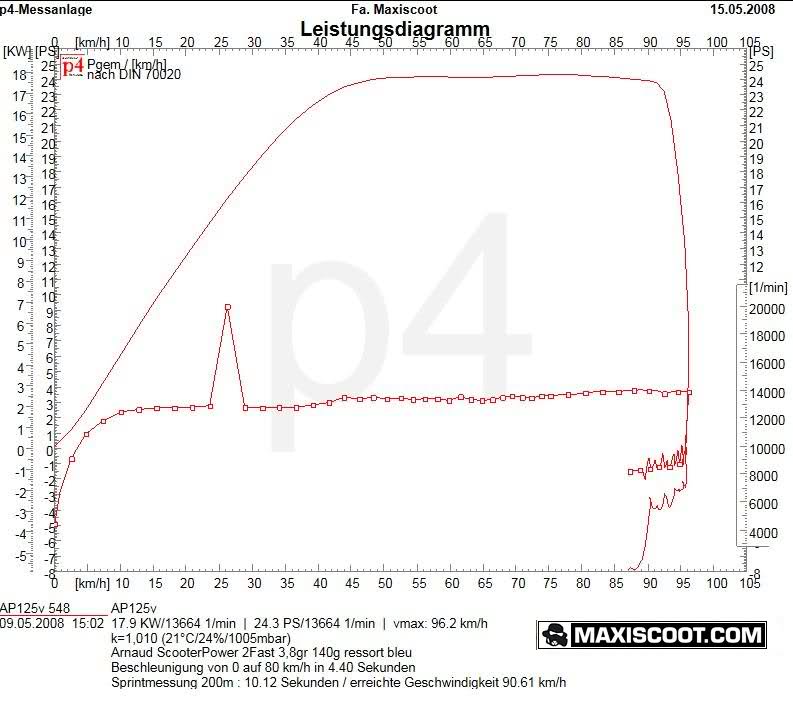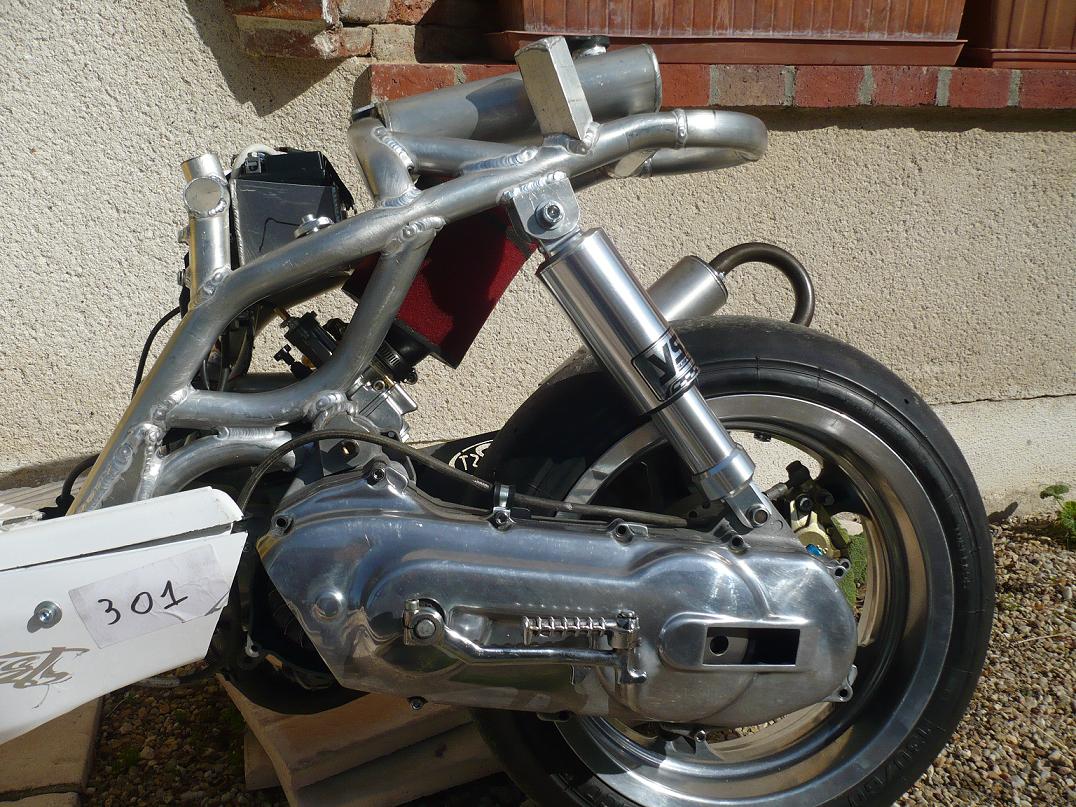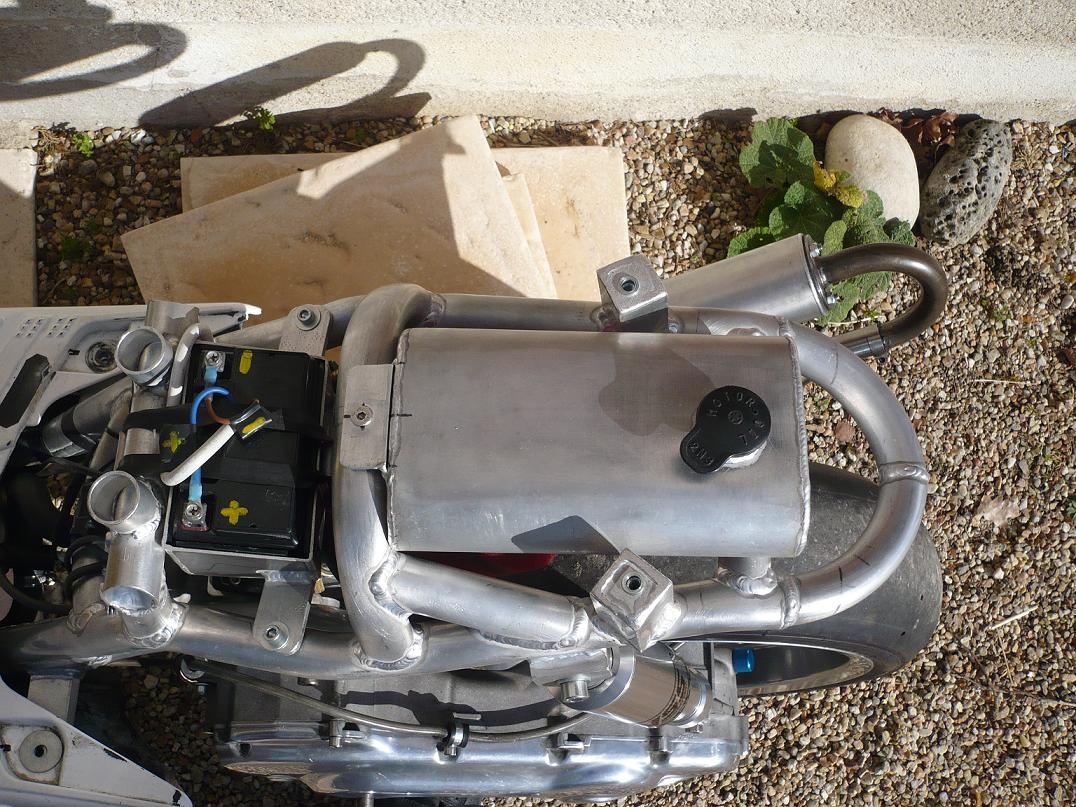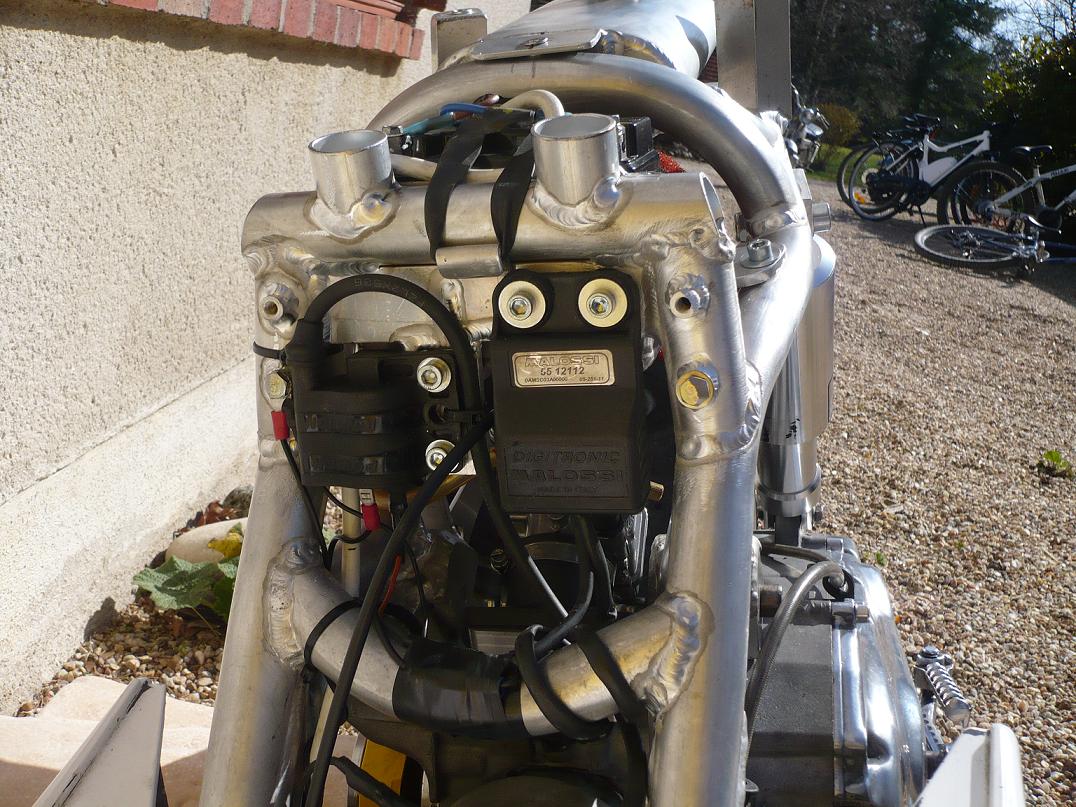 Version Alu – 2008 / 2009
In 2008, Arnaud pushes his Booster even more by equipping it with an aluminium chassis. This kind of modification is pretty rara and is only done by some serious tuning fiends like Carbone Forever.
After eight months, Arnaud presents his new 5kg aluminium frame; in comparison: the old steel frame weighed 12.8kg. It is equipped with a custom-made steering column with 80 CR bearings.
The new, lightweight chassis allows Arnaud to blow up the record times at various drag races, then it is time to give the Booster a well-deserved rest. From now on, Arnaud used an MBK Mach G at Drag Racing events.