The 2017 drag race season has officially begun! Just like in previous years, riders from all across Europe met for the 1. drag racing event of the season, Drag Day #!, in Salbris, France, to go full throttle after the winter break.  
The sun played along, and so the Interantionl Karting Track in Salbris attracted 300 pilots and just as many visitors on April 8 and 9. This was the 5th installment of the popular drag race event, and the organizing teams  ScooterPower and Maxiscoot celebrated 10 years of successful cooperation.
Drag Day #1 : 1. Drag Race Weekend in Salbris
ScooterPower Drag Day #1 2017 was not only the official opening of the season, but also a special reason to celebrate: it's been 10 years now that Maxiscoot and ScooterPower are working together, 10 successful years to build up and support the 50cc drag racing scene.
This year saw the introduction of new, stricter weight regulations and a redivision of race classes; this did not deter anyone, and Salbris welcomed more visitors than ever before. Everybody was happy about the mild weather and sunshine, and the pilots were saved a lot of warm-up time on their tires and could just hit the gas.
After the technical check-up on Saturday, all pilots, supported by their mechanics and helpers, were able to do a few test runs on the 150m dragstrip. Many of them took the opportunity to do some final fine-tuning to their machines and to optimize their starting technique to achieve record times and maybe even a win on Sunday.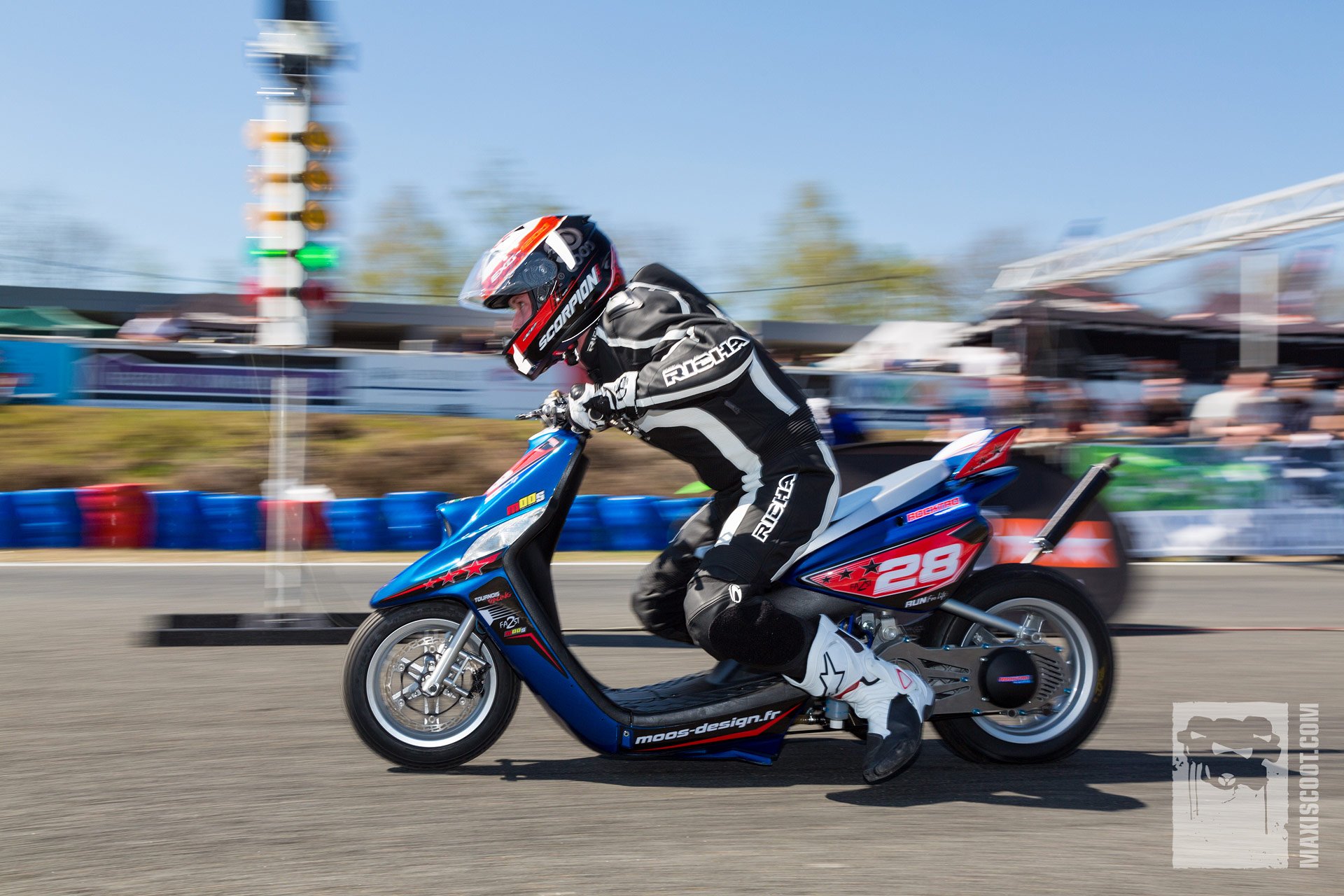 Just like every year, the Maxiscoot team brought their P4 test bench, and as always all participants were allowed to use it for free to do some final adjustments. The Maxiscoot stand has more in stock: lots of promo codes, a good selection of new accessories and a great challenge for everybody into DIY: remove and reassemble a cylinder kit as quickly as possible! As you can see – there was not time to be bored, fun and games all round!
The MXS Racing Team showed up with all of their drag race pilots, and those 4 made it to the podium: Léa, Vincent, Kévin and Jordan. Thumbs up and keep it up!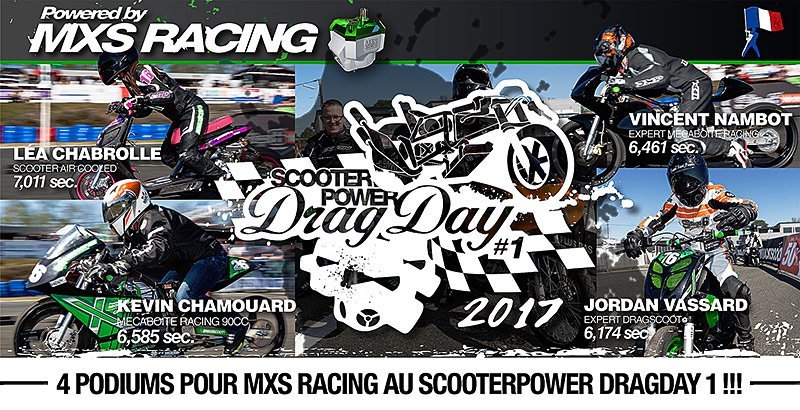 All Photos from Drag Day #1 are online now, you can also have a look at the results of this 1. stage of the 2017 Drag Challenge.
The next meet-up will be in Labarde de Bordeaux on May  20 and 21, 2017, this will be the Drag Racing Event #1, organized by Drag Racing Team 33.