Since 2014, Drag Racing fans from all over Europe have been getting together at the Drag Challenge, the official Drag Race Championship launched by Team ScooterPower, to show their tuned dragsters and compete with each other.
In 2017, the Drag Challenge is made up of 3 race events – the ScooterPower Weekend and 2 Drag Days. An Open Day with open test runs will be introducing the actual race season.
ScooterPower Events 2017

The dates for 2017 are now fixed. Between March 12 and October 8, Salbris tracks will be open for test runs (1 date) and the official races (3 dates).
Open Day
Drag Day #1
ScooterPower Weekend
Drag Day #2
All events take place on the international karting track in Salbris in the heart of France. Salbris provides excellent infrastructure, easy access and everything needed for professional racing: race track, test track, burnout zone, and direct access to the paddocks.
State-of-the-art electronics guarantee extremely accurate time and acceleration measurement, displayed in real time on 2 giant screens. Like every year, our Maxiscoot test bench will be available to all pilots during all events free of charge. You can use it to make some final adjustments to your set-up before the start.
If you intend to participate on your scooter, dirt bike, moby or drag bike, you'll have to officially register and abide by the official race regulations. Please note that you won't be allowed to run if the combined weight of pilot + bike is below our minimum weight requirement.
ScooterPower Drag Challenge 2017 Agenda
Open Day: Free Test Runs
On March 12, Maxiscoot and ScooterPower will open the 2017 season in Salbris with an Open Day. All riders can test their new set-ups and readjust engine settings with the help of our free-to-use test bench.

The following tracks are open to all riders, from absolute beginners to pro race rider:
Dragstrip – 100 meters
Karting track – 1,5000 meters
Drag Day #1: Official season opening

The first part of the Drag Challenge 2017, Drag Day #1, will take place on April 8 and 9. Be part of the action on this 150m long racetrack!
On Saturday, there will be open runs, on Sunday the official races will be held
Overview:
Drag race over 150m
Vendor booth
Test bench
Competition – remove and remount cylinder
ScooterPower Weekend: the ultimate 50cc event
The ScooterPower Weekend is the biggest drag racing event in the 50cc racing scene. For 10 years, the ScooterPower Weekend, this year on July 15 and 16, offers a lot of surprises, fun, adrenaline and action.

Program:
Drag race over 150m
Vendor booth, test bench
Competition – remove and remount cylinder
Sudden Death: 50m short distance (only winners qualify for the next run)
Foam party with free Maxiscoot toys
Custom show
You can get lots of tuning and customizing tips at our Maxiscoot stall. You can also take a look at our MXS Racing custom bikes and prototypes.
In 2016, we introduced our popular cylinder assembly competition: dismount and remount a cylinder as fast as possible! The winner gets a Stage6 Racing MKII kit.
Later at night, we will have a big foam party with great music and lots of goodies. From 23h on, DJ Boxi will play your favourite music, and with a bit of luck you can even get a Maxiscoot toy.
On Sunday you can admire the wildest custom bikes at the custom bike show. A jury, chaired by Mac Rider from Scooter Addict magazine, will award prizes to the most beautiful scooters, dirt bikes, mopeds and drag bikes.
Drag Day #2: the great finale
Drag Day #2 on October 7 and 8 is the last event of the 2017 Drag Challenge. The program is identical to Drag Day #1. This is your last chance to work your way up the ranks.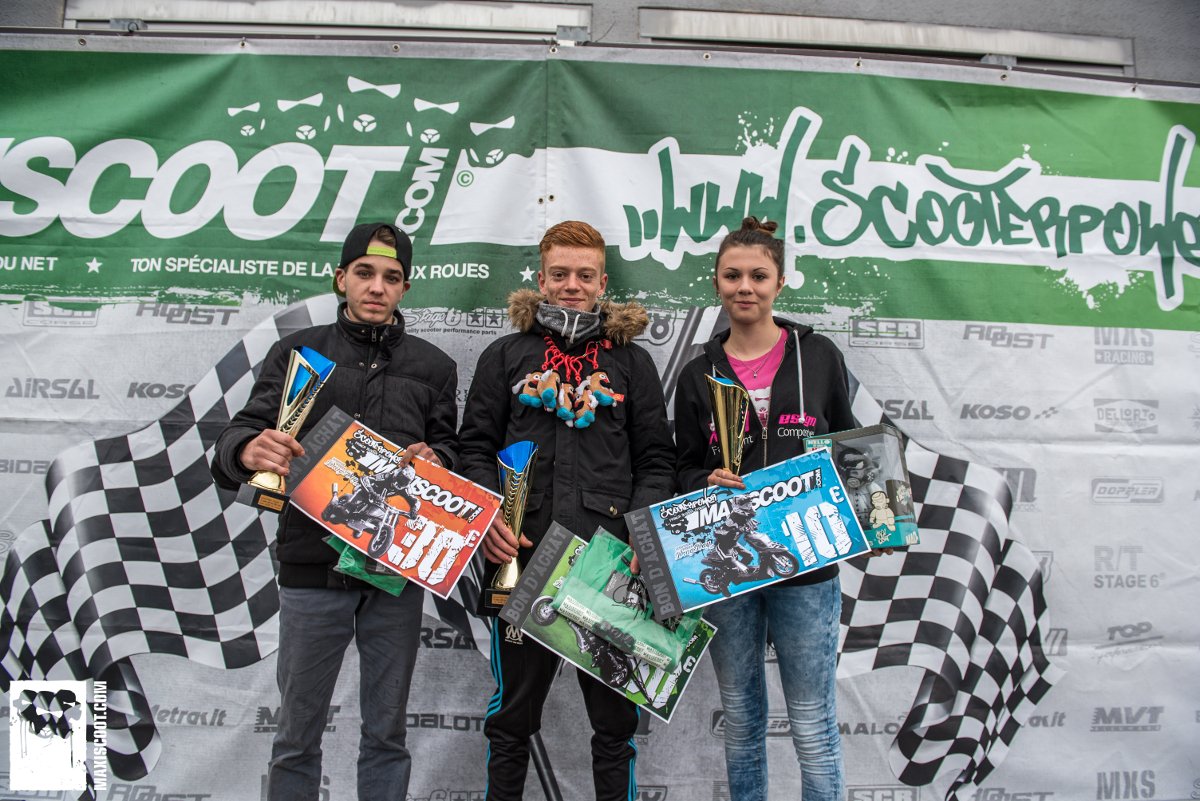 So let's look forward to a fantastic 2017 season. We recommend joining ScooterPower to take advantage of numerous benefits.
Membership Benefits:
Free registration for all Drag Challenge races
Super discounts at Maxiscoot
Free technical check-up
SPR T-shirt, Limited Edition
Info Drag Challenge 2017:
If you want to take part in the Drag Challenge 2017, you should definitely check the official ScooterPower site. You will find all information on regulations, technical requirements, application forms and much more.
Our photographers will capture everything, you can find the photos on our social networks. Subscribe to our Facebook page and we'll keep you posted!