The MXS Racing Team, organized and sponsored by Maxiscoot, participates in many European 50cc drag racing events and circuit races.
After having successfully completed the 3rd drag racing season with many victories and honourable records under their belt, the MXS Racing Team is now being supported by 2 new riders. A warm welcome to our new pilots that will ride for the MXS Racing Team 2017 in drag and circuit races.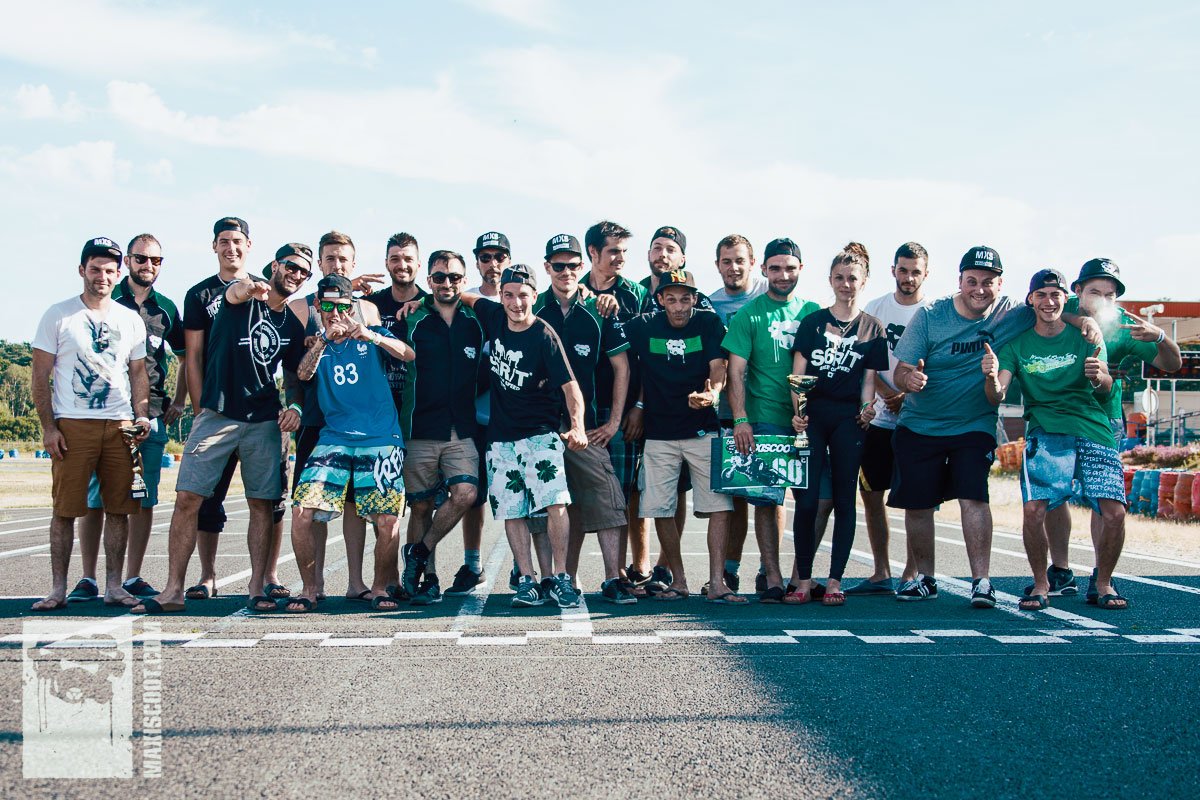 2 new pilots are joining the MXS Racing Team in 2017
The MXS Racing Team was founded in 2014 and is sponsored by Maxiscoot. In 2016, the team consisted of 16 riders, 14 drag race and 2 circuit race pilots, all of them proudly riding in Maxiscoot colours. In 2017, 2 new members join the team.
Drag Racing Team
In 2016, the MXS Racing Team pilots put all their energies into climbing the ranks to get to the top, they were assisted and supported by tuning pros Michael and Jacques..
And the effort paid off, for the MXS Racing Team colours were not only dominating the podiums of several Drag Challenge stages in 2016, but also managed to come in first at the 50cc events organized by Drag Racing Team 33 on the drag race track of Labarde in Bordeaux.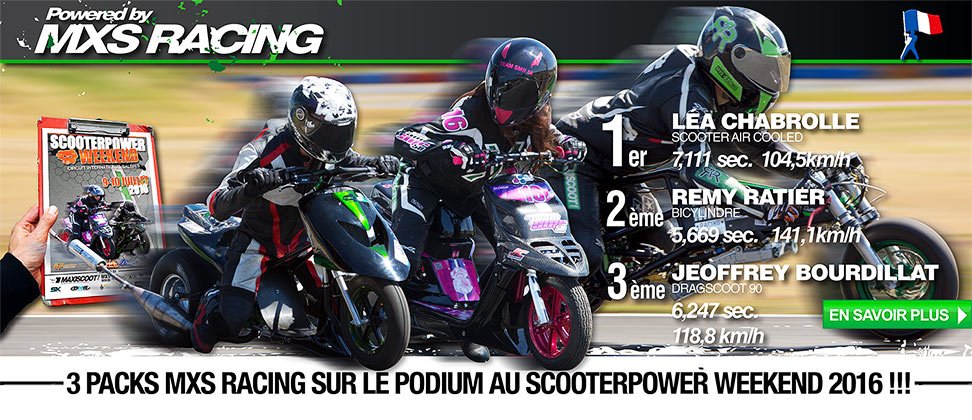 The MXS Racing Team wants to build on and continue the pilots' solid and promising performance in the coming year with 2 new riders: Vincent Nambot and Stanislas Combes.
Introducing the new pilots
Vincent Nambot is a young rider who is a well-known face at many race tracks; he rides a custom gearbox moped powered by an MXS GP 90 cylinder and developed by Rémy Ratier.
Stanislas Combes is the owner of a Honda HM, that he tuned himself and that he will also ride himself. In 2017, a Stage6 R/T Tuning Kit will hopefully make it even faster!
The new pilots will ride with:
Rémy Ratier –

Я

Rproducts,
Louciano Folia – Team Seb Racing
Kévin C. – Kévin Chamouard #26,
Brice Sarazin, David Beaufreton – DB Racing Team,
Léa Chabrolle and Alexis Wavrant – Team SMR 58,
Jordan Vassard – active member of Team Fast Power,
Gregory Ponthet, Mickael Barral,

Jeremi Djemani

, Fab and Joffrey Bourdillat of Team RPC 83.
In 2016, the MXS Racing Team was also joined by Frédéric Charpentier AKA Kasimir and his Nexxo.
His Nexxo Twin Cylinder is now enjoying its well-earned retirement and Kasimir is working on a new custom project that will be introduced to the racing community in 2017. Stay tuned, the new project sounds awesome!
Dragster and Endurance Team
It's true that most MXS Racing Team pilots are drag race pilots, but the Trophée Grand Ouest is definitely important as well. In 2017, just like in 2016, our pilots #15 Arnaud Petit and #10 Louis Delaune will participate in several stages of the TGO wearing the MXS Racing Team colours.
So much for our new riders, you will hopefully feel like getting to know them on the big events and meetings in 2017. The official opening of the race season is on April 8, 2017, so let's get ready to rumble!
The entire MXS Racing Team will show up for the 1st stage of the Drag Challenge 2017 at the Internationalen Karting Track in Salbris. Don't forget to register if you want to participate in the biggest 50cc drag racing competition in Europe.