Race Report ScooterPower Drag Day #2
On October 19 and 20, it was time for Drag Day #2; it was held on the international kart track in Salbris and was organized by Maxiscoot and ScooterPower.
The rain didn't scare off fans and riders, they showed up in great numbers to go full throttle one last time before the winter break to climb to the top of the rankings.
Some riders were even able to take advantage of the difficult conditions and made it to the podium at this last stage of the 50cc Drag Racing Championship.
Here is the report, the rankings and the photos of the Drag Challenge Final 2019!
ScooterPower Drag Day #2 2019 - The Records
150 Meter in 6,52 Seconds
During the official races some riders set real records even though the weather was so bad. Here are the best times of the weekend:
One Cylinder: 6,526 sec. for 150 m (124,6 km/h) – Tifenn M.- Team Chrismotor,
Twin Cylinder: 7,925 sec. for 150 m (125,6 km/h) – Marco V.E. – Roller Tuning NL – MXS Racing Team.
Arthur Vilain wins Wheelie Contest
On Saturday late afternoon, the most talented stunt riders gathered for the Wheelie Contest to show off their skills on the rear wheels of their bikes. Arthur Vilain won the competition, hereby dethroning Louis Pereira, who had acquired a reputation of being unbeatable. He rode the 150 meters on the rear wheel of his moped in 8,027 seconds. Congratulations for this great performance!
7x Podium Places for MXS Racing Team
The Drag Racers from MXS Racing Team gave it their all to make their way up the rankings. That paid off for four of them.
Marco Van E. – Roller T. NL – 1. Twin Cylinder (7,925 sec – 125,6 km/h),
Axel T. – Team Roulotte – 1. Dragscoot 90 (6,616 sec – 119,1 km/h),
Axel T. – FRT – 1. Expert Mecaboite R. (7,186 sec – 118,4 km/h),
Axel T. – Team Roulotte – 1. Sport 70 Scooter (6,739 sec – 112,6 km/h).
Rémy R. – ЯRproducts – 2. Twin Cylinder (8,043 secondes – 106,6 km/h),
Marco V.E. – Rol. T. NL – 2. Dragscoot 70 (7,146 secondes – 113,1 km/h),
Alexis Da Silva – Team MR 34 – 3. Dragscoot 80 (8,017 sec – 114,2 km/h).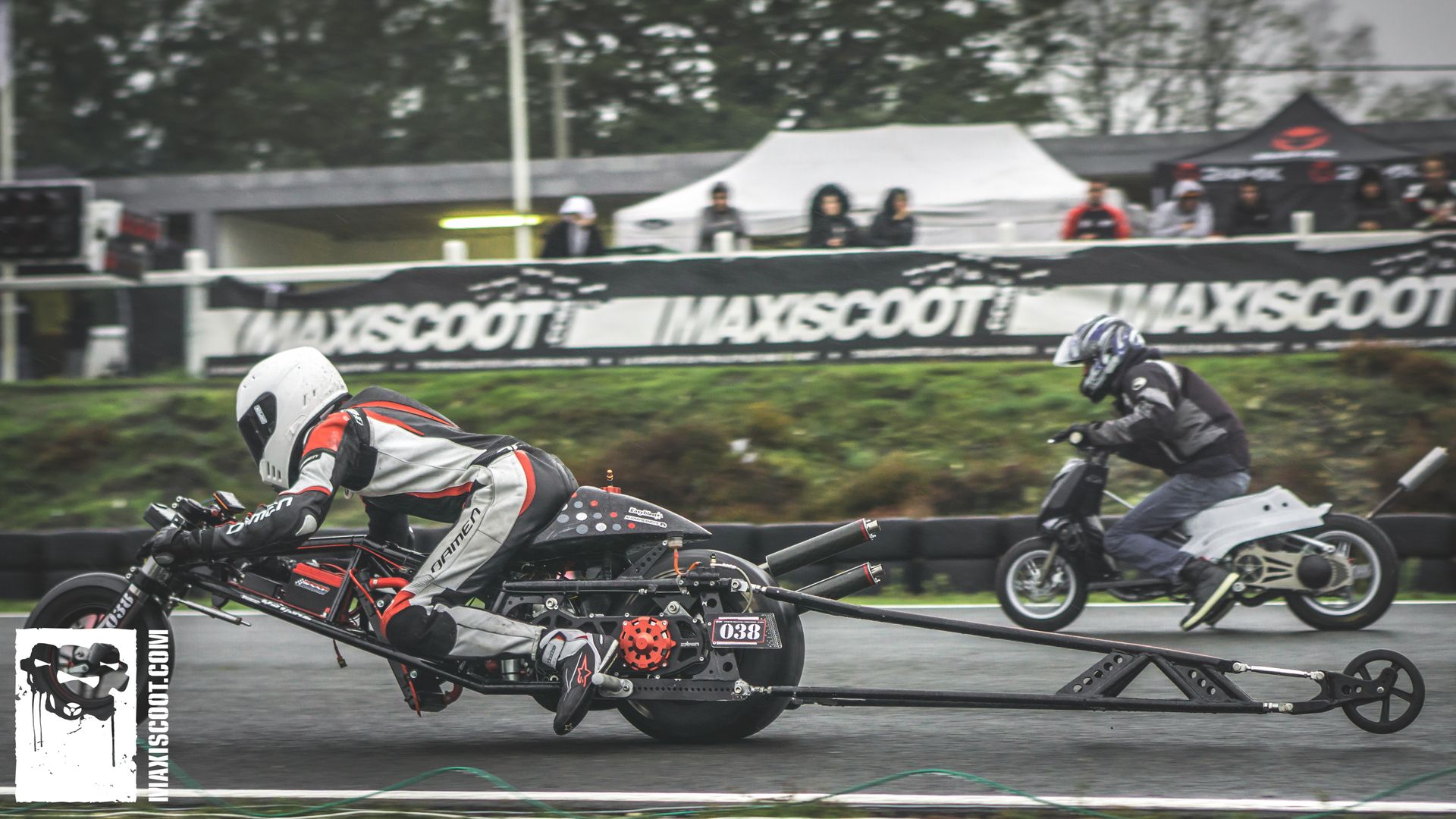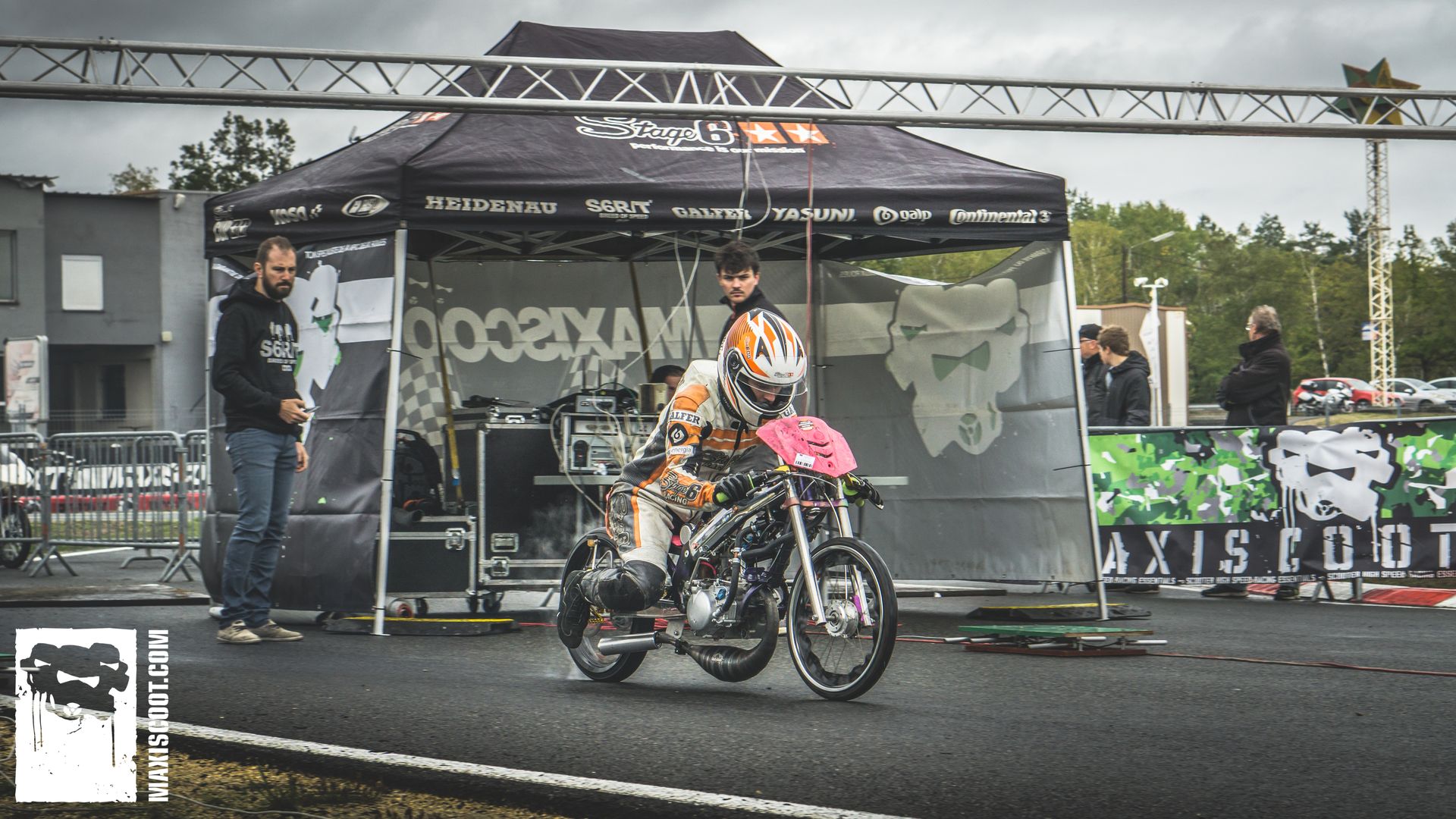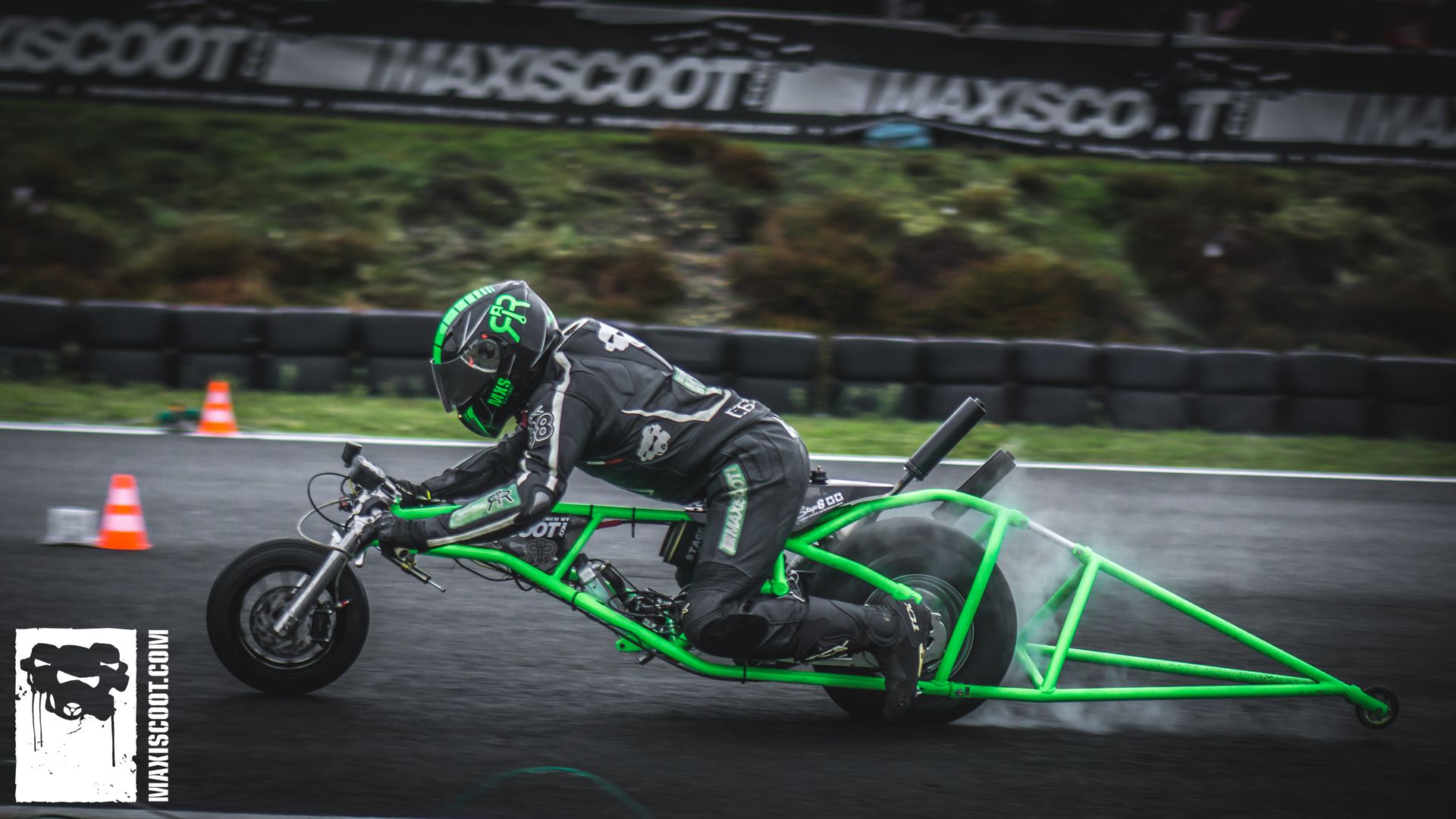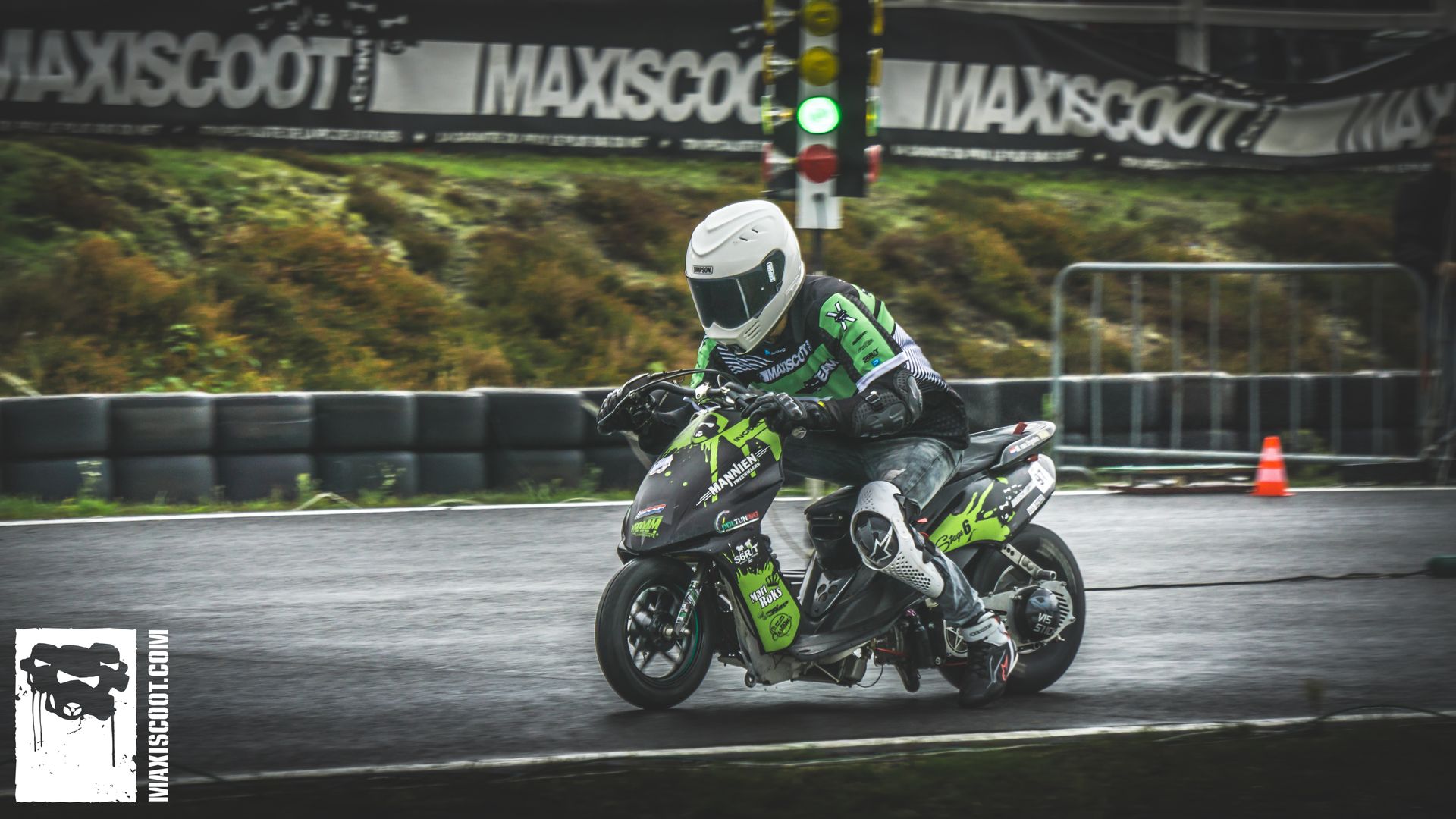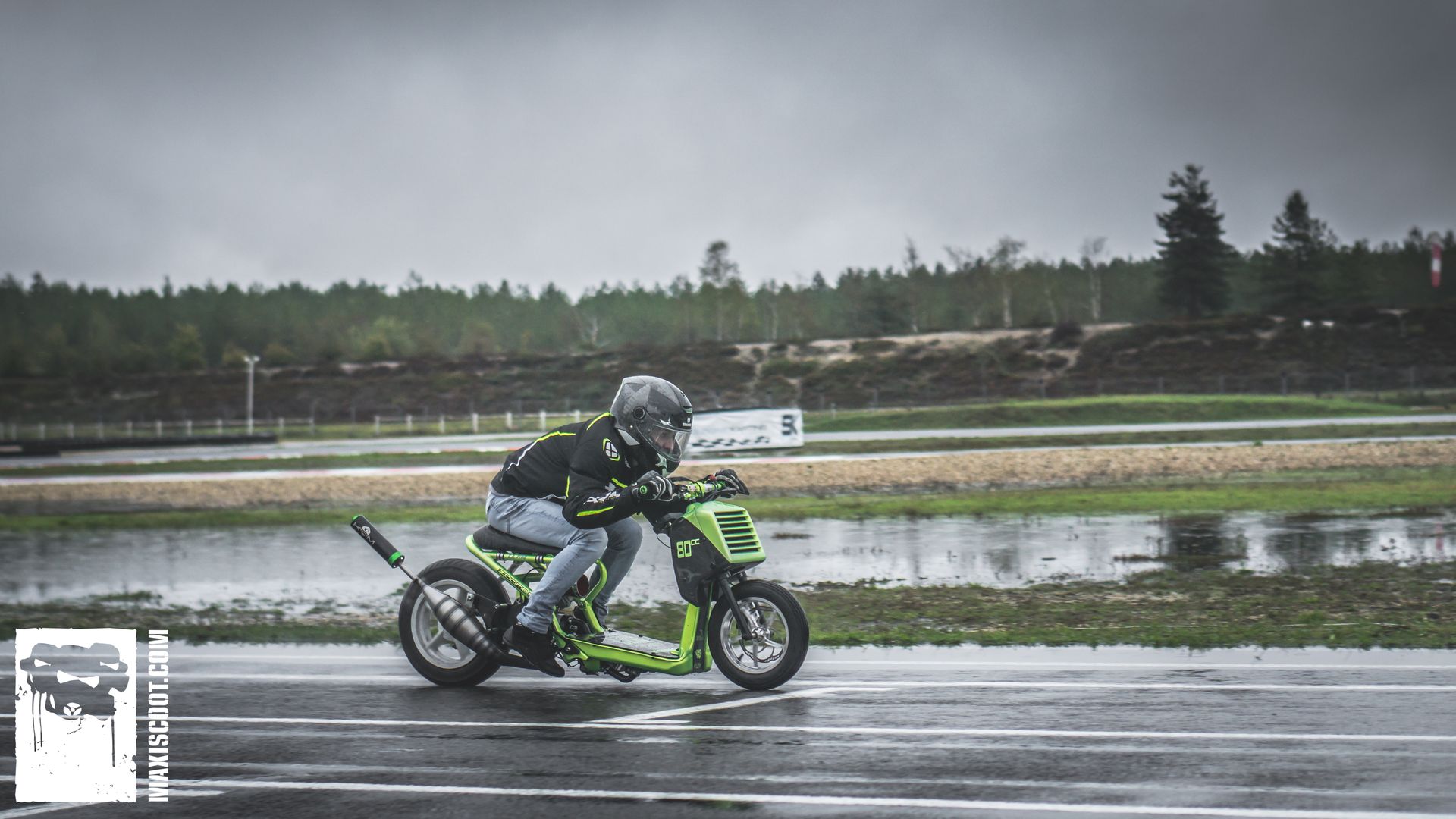 Congratulations to all the other team riders who showed up and participated not only this weekend but throughout the entire season and made it as far up the rankings as possible.
Many thanks to the ScooterPower team for this great event and to all the riders who were part in the individual stages of the Drag Challenge 2019. See you next year, we are looking forward to an exciting season 2020.
Here are the official results of the runs of Drag Day #2, Drag Challenge 2019, the Custom Show results and of course the photos!
Rankings ScooterPower Drag Day #2 2019
Classement ScooterPower Drag Challenge 2019
Results Custom Show ScooterPower Drag Day #2 2019
| | | | |
| --- | --- | --- | --- |
| Position | Owner | Team | 2 roues |
| 1 | Océane Kérautret | Tagada Custom | Derbi DRD Tagada Custom |
| 2 | Goeffrey Blanchet |  Passion 50cc | Honda HM Lucas Oil |
| 3 | Mickaël Baral | Team Rpc 83 | Derbi MK Moto |
| | | | |
| --- | --- | --- | --- |
| Position | Owner | Team | 2 roues |
| 1 | Valentin Faitout | Team MR34 | Honda Zoomer Black mat |
| 2 | Sabrina Fressard | Orni Factory | MBK Booster LC |
| 3 | Dimitri Dalle | Team Chrismotor | MBK Booster LC |
| | | | |
| --- | --- | --- | --- |
| Position | Owner | Team | 2 roues |
| 1 | Andy Almon | Mania Factory | Dragster mécaboite |
| 2 | Anthony Dubreuil | Team MR34 | Bultaco |
| 3 | Rémy Orni | Orni Factory | Dragster scooter |
Photos ScooterPower Drag Day #2 2019