MXS Racing Bike Mat for Racing and Workshops
The World Motorcycle Organization FIM (Fédération Internationale de Motocyclisme) is becoming more and more environmentally conscious and introduced the mandatory use of environmental bike mats into their official racing regulations.
Our MXS Racing Bike Mat will become a vital accessory for your future racing events, will protect your garage, yard or workshop and might be the perfect presentation platform for your next custom show.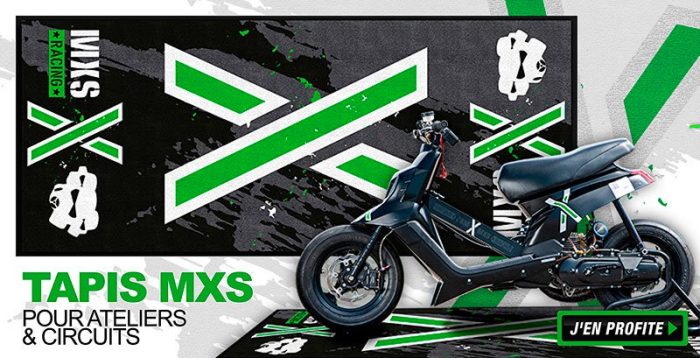 Environmental bike mats have become mandatory for most motorsports events, now they are also required for 50cc racing events.
Our FIM certified MXS Racing bike mat is light and can be rolled up for easy transportation so taking it with you on your racing events will not result in excess baggage.
At home, the mat can be used to protect the soil against fuel, oil and other toxic liquids; they will be absorbed, and the rubber backside makes sure that nothing can get through. In addition, screws and other small pieces will get caught on the mat and won't roll away into hard to reach corners.
And last but not least – our MXS Racing design mat will set you apart from all the other pilots!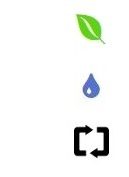 FFM and FIM certified, meets official regulations
high absorption capacity (3 litres per m²)
rubber backside and reinforced edges provide perfect grip and stability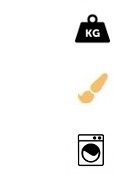 light weight (3.4 kg) and flexible, can be rolled for easy transport,
colorfast fabric for optimal preservation of colours
machine-washable at 30 °C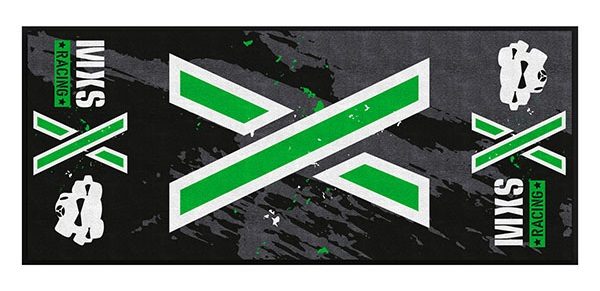 Measurements: 180 x 75 cm
Thickness: ±5 mm
Weight: ±3.4 kg
Absorption: 3 L/m²
Machine wash: 30°C
FIM approval
PVC back side and 100% Polyamide pile
MXS Racing logo
Made in France