Ipone from France is 100% dedicated to producing high quality lubricants and oils for all types of two-wheelers. Founded in 1985, the company has established itself in the highly competitive oil market with innovative and handy products such as City Oil, an oil with strawberry scent, and Samouraï Racing with integrated dosing aid.
Ipone have expanded their range, so today owners of 50cc scooters and mopeds, quads, snowmobiles and jet skis can find the oils and care products specifically designed for their vehicles. Ipone's motor and gear oils feature innovative, performance-enhancing formulas and meet the latest technical and environmental standards.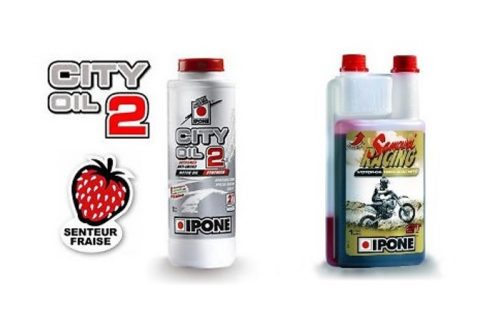 Apart from classic lubes and oils, Ipone also offers careand cleaning products for many applications. We carry the following products at Maxiscoot:
fork oils
high temperature lubricants
helmet and plastic cleaner
cable lubes
carburetor and air filter cleaner
coolants
brake fluids
tire repair foam
Maxiscoot sells products from many two-wheel specialists, and Ipone has been part of our catalouge right from the start. In our online shop you will find all Ipone products at competitive prices.