After several months of development and many tests under real race track conditions, MXS Racing, the R&D department of Maxiscoot, is proud to finally introduce their own brand new inner rotor ignition.
The ignition is available for scooters and drag bikes with Minarelli vertical and horizontal engine and was specifically developed for very powerful racers.
It is fully programmable and simply the perfect ignition for tuning fans who want to get the last bit of power out of their scooters.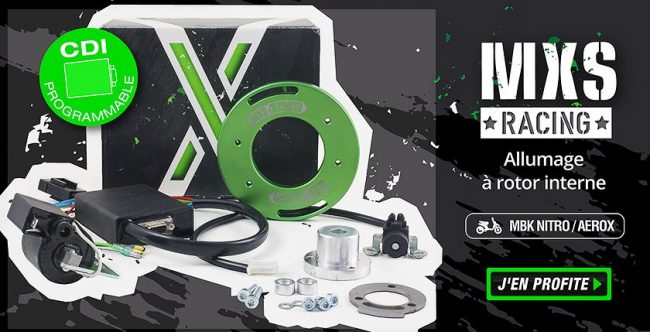 With almost limitless options for adjusting ignition advance, the MXS Racing ignition helps you unlock the full potential your engine. These are some of the features:
anodized green CNC-milled aluminium base plate
optional 2nd pick-up (twin cylinder)
fully programmable CDI
pre-programmed ignition curve, optimized for race engines
power supply via 12V / 5Ah scooter battery (min.)
The ignition has to be run by an external 12V battery. Since in this type of ignition the resistance between rotor and stator is basically eliminated, and a very lightweight rotor reduces inertia, take-offs and acceleration are improved and maximum power can be accessed much earlier.
The CDI is fully programmable, this means that ignition timing can be advanced / delayed to any speed up to 25,000 rpm. The virtually unlimited timing options are the perfect way to get maximum power out of your two-wheeler.
This new product can be purchased at a fair price – only € 399; MXS Racing is pushing the envelope here und takes performance to the next level. Definitely a technical highlight for tuners and racing fans who are always looking to improve performance.