The Team Seb Racing aka TSR is a very active scooter racing team from Brittany, France. The team was founded in 2003 and und participate in regional, national as well as international competitions since. 
Although the TSR Team's focus has always been on the French Endurance Championships (they won the championship from 2007 to 2009), they started to become active in drag racing and got MXS Racing as their partner and technical support. Their collaboration with Maxiscoot led to the realization of an ambitious custom project – an MBK Booster with Ovetto engine. Here are some of the details: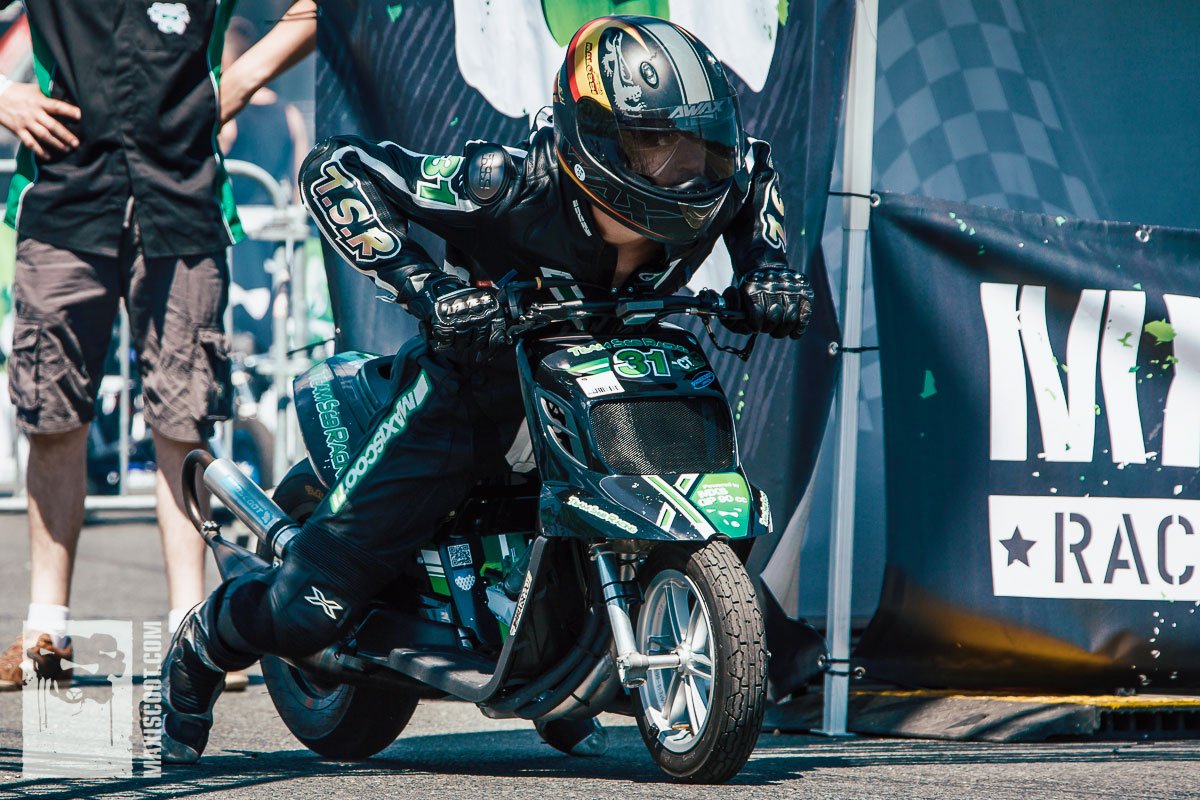 MXS Racing – TSR: a Winning Team
The Team Seb Racing riders are accustomed to Piaggio Zip scooters that they are mostly using for circuit races, but decided to develop and realize an MBK Booster based drag bike. This is how an MBK Booster, one of the most popular scooter models in France, was completely modified; MXS Racing and TSR worked successfully together to turn the street-legal scooter into a powerful racer.

The project started with modifying the chassis. The custom-made aluminium frame has the same dimensions as the the original Booster 2004 frame minus a couple of minor but important details:
Increased rake (fork angle) to improve stability and handling
Reinforcing bar to stabilize frame (removable)
Subframe brackets to mount Minarelli horizontal engine
Fuel tank 1l
All remaining chassis components are top quality high-end parts as welll. The components listed below were carefully chosen to achieve an optimal balance between weight and handling:
CNC-machined triple tree and fork tubes
Front wheel Drag Race with Kenda tire
Honda RS shock absorber

Radiator original Piaggio Zip SP2



Downhill handlebar + handlebar clamp

, throttle grip Domino

Front brake cylinder and disc 

Ø

203mm (mountain bike)
Killswitch Stage6
CNC-machined frame stabilizer
Rear wheel 

Voca Racing Magnesium

13″ with PMT tire
To give the drag bike a classy finish, we went for a BCD RX fairing kit (headlight mask and rear panel) that were then covered with an MXS – TSR decal kit specifically designed and cut to size for this custom project.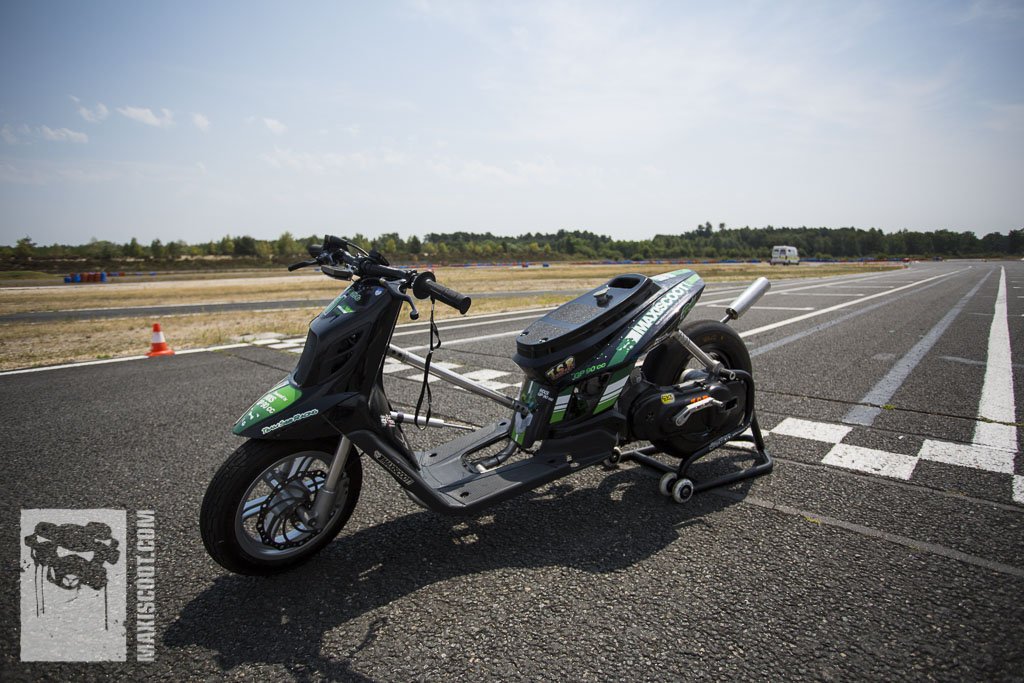 Let us now have a look at the most important part, the engine and engine parts. The techincians opted for powerful high-end racing parts only when deciding what to use for the Booster 90cc MXS Racing – TSR. Here's a list of components that are part of the tuned Ovetto engine:

The finished custom drag bike with the set-up listed above and a weight of 46 kg delivered on a whopping 29.8 hp at 13,900 rpm. A powerful beast if there ever was one, but pilot Louciano Folia proved that is was capable of taming it during the last two race seasons. Well done and congrats for the amazing results!!
If you want to take a look at this custom build, just come to one of the ScooterPower Events 2015. And if you are really impatient (or simply close by), drop by the ProScoot Shop in Lannion (Côtes-d'Armor), this is where the custom Booster is exhibited between races.
Enregistrer