ScooterPower Drag Challenge: Calendar 2018
ScooterPower has published the dates for their 2018 Drag Racing Season. The ScooterPower Drag Challenge will be featuring 4 events: 1 date for free test runs, 3 official race dates for ranking.
Open Day: March 11
Drag Day #1: April 21 + 22
ScooterPower Weekend: July 7 + 8
Drag Day #2: October 20 + 21
All 2018 events will take place at the Salbris race track (41300). At each event, 2 tracks will be open for racing: the straight 50m drag strip with time measurement system and the 600m karting track where all riders can just practice and go as fast as they want to on their bikes.
Just like in 2017, the professional time measurement system will ensure precise recording of reaction and overall time as well as top speed. For the audience, two giant screens will display the results in real time. And again, Maxiscoot will bring their test bench to all events so that everybody can check and adjust their engines free of charge.
Any pilot who wants to compete has to register and make sure that equipment and bike conform to the official race regulations; this year the Stage6 R/T and 3 new categories will be included:
All Day Cast Iron,
Expert Dragscoot Air,
Open 4-Stroke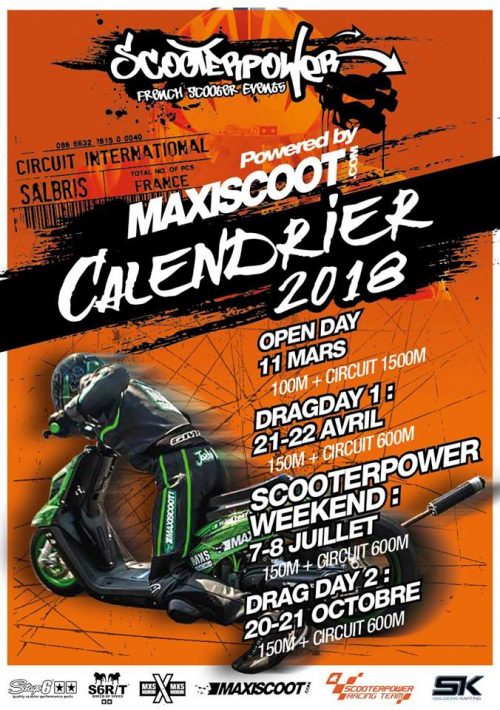 To save money and have other advantages, we recomend to join ScooterPower.
Here are the benefits:
free registration for the Drag Challenge events
fantastic discounts at Maxiscoot
1 technical check-up for the entire season
T-shirt SPR limited edition

If you want to participate in the Drag Challenge 2018, please visit the official ScooterPower website to acquaint yourself with proceedings and regulations – administrative and technical requirements, registration form and practical info and advice.
The best moments will be captured by our photographers and will be published on Facebook, Instagram and Snapchat. Follow us so you won't miss anything!