Race Report Drag Racing Event #2
It was that time of the year again: on September 9 and 10, the annual Drag Racing Event #2, organized by DRT Drag Racing Team 33 out of Bordeaux, took place. As a matter of course, Maxiscoot and the MXS Racing Team were part of the action and participated in many 200m drag passes.  
The weather forecast was rather disheartening, but more than one hundred pilots showed up and registered for the races at the Labarde drag strip in Bordeaux so they could go full throttle and get the adrenaline pumping again.
Here's our race report with all results and times and many pictures.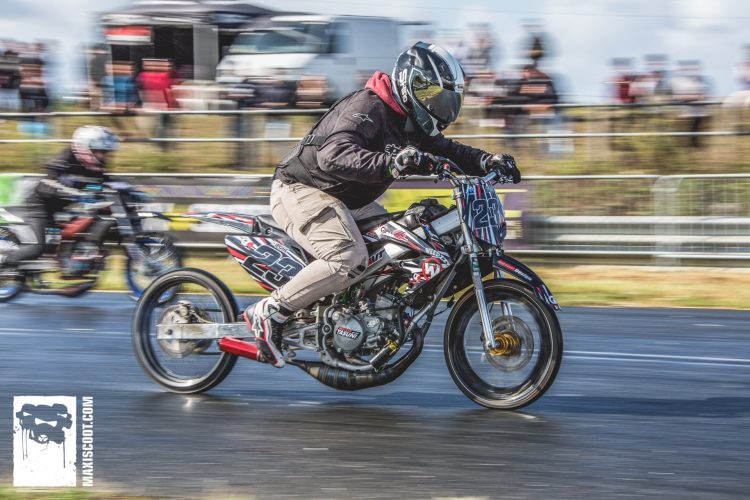 Burnout over 100 Meter
Despite the rather bad weather, many riders and tuning pros took advantage of the free runs on Saturday morning to fine-tune and adjust their engines. The wet track was quite slippery, and some riders managed to get burnouts over 100m going. You can watch live videos of the fun and action on our Maxiscoot Facebook page. The official races started afterwards, with ever faster times and with the gap between the competitors becoming smaller and smaller.

Dis- and Reassembling a Cylinder in less than a Minute
And just like every year, we held our popular Pit Stop Challenge at the Maxiscoot stand – disassemble and then reassemble a cylinder as fast as possible. And it was a great success this time, with more than 50 skilled fans competing against each other. No need to mention that you need skills, technical know-how and lots of practice to win this competition. At the end, two well-known names were the last men standing: Alexis of Team LRT and Jérome of Styl'Bike, who beat Alexis, with incredible 54 seconds. Thank you and congrats to everybody participating, and good luck in case you'll try again on ScooterPower Drag Day #2!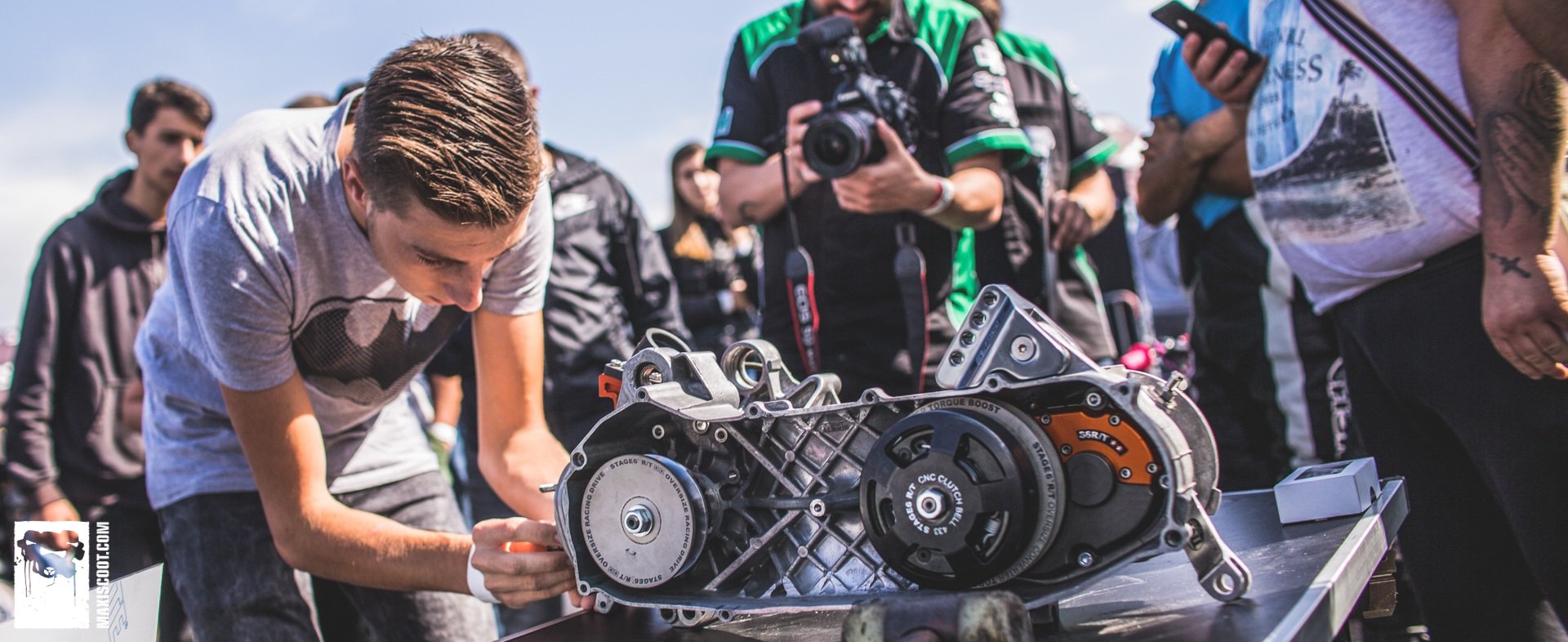 Team LRT Victorious at Sudden Death
Just like at the DRE #1, the organizers staged a Sudden Death Competition with 32 competitors over 50 meters. After an accident the night before, the finale on Sunday morning saw Greg PNT of Team RPC 83 and Nadu of Team LRT racing against each other. It was Nadu who came in first and walked away with the prize.
Team Maxiscoot wishes Dylan Moreno a speedy recovery, we hope that he can go full throttle again soon.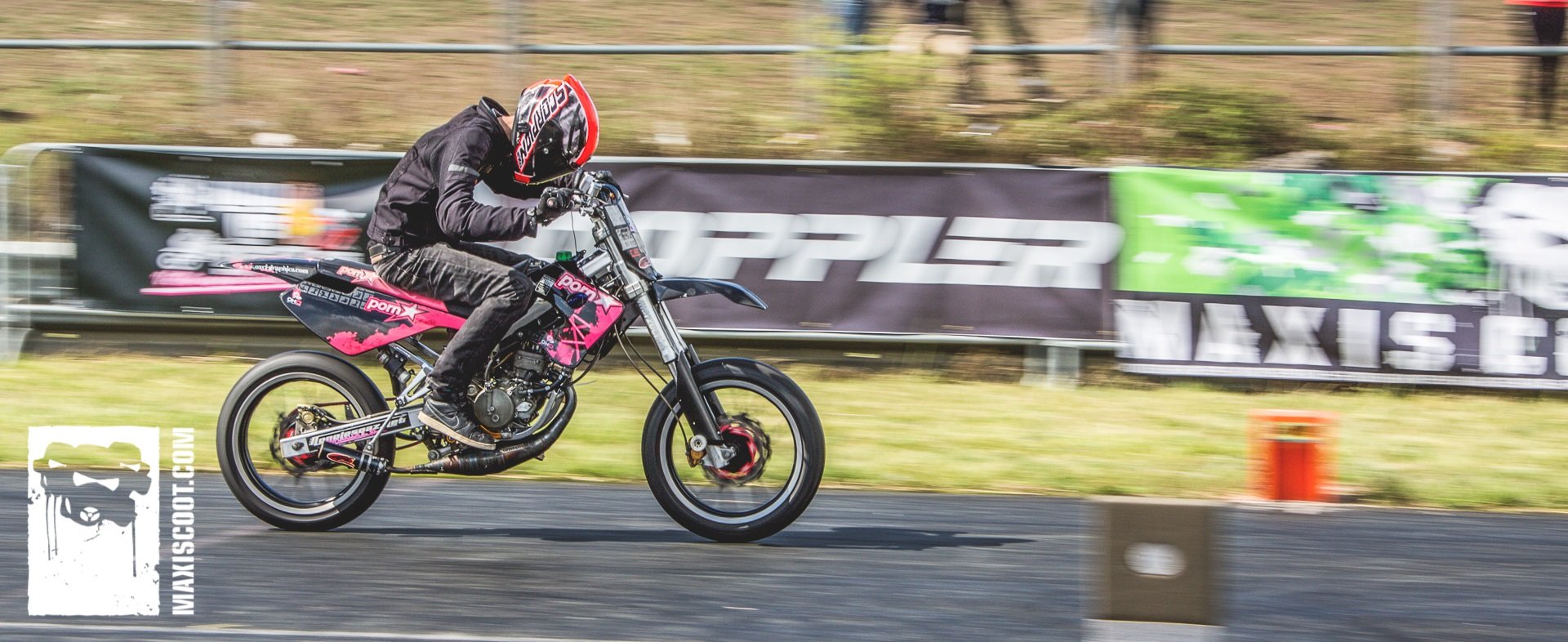 4x Podium for MXS Racing Team
The MXS Racing Team gave it their all and tried to race as fast as possibe, and it paid off – 4 of our pilots made it to the podium.
Remy Ratier 3rd BC-S (6.75 seconds – 156.9 km/h),
Jordan Power 3rd S5 (7.33 seconds – 144 km/h),
Léa Chabrolle 3rd SA (8.69 seconds – 118.6 km/h),
Greg PNT 3rd Dm2 (7.93 seconds – 133.99 km/h).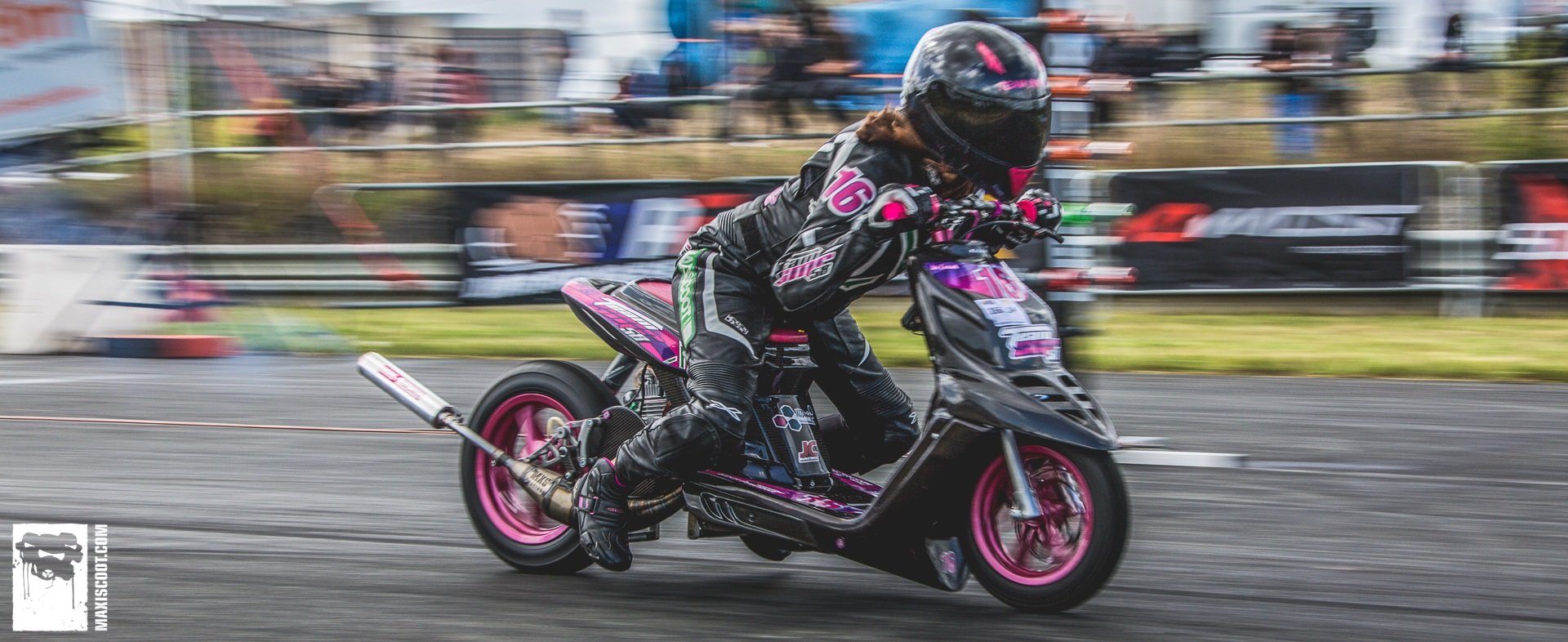 Congrats and a big thank you to all riders in our team – you've done your best to make your way up in the official rankings. Keep it up!
We would also like to thank the organizing team and all partcipants – it was a great weekend, and keep the tuning efforts going strong so you can be even faster next time!
Here's the official results with times and the photo album.
Ranking Drag Racing Event #2 2017
We are looking forward to seeing you at the final stage of the ScooterPower Drag Challenge 2017 in Salbris. So don't plan anything else for the weekend of October 7 and 8, this is the last chance to go full throttle before we go into winter break.