At the beginning of 2018 Stage6 extended their catalogue by launching their reinforced LPC crankshaft for Minarelli vertical, now it's time for a second generation HPC crankshaft. 
The MK 2 crankshaft was developed for tuned engines. The balancing was specially designed for racing and high-end set-ups; stability remains excellent even at very high rpms.
Considering its really fair price of only 159 €, this crankshaft is definitely a must-have for powerful 50cc scooters with Minarelli vertcial engine, especially suited for drag racing such as the ScooterPower Drag Challenge.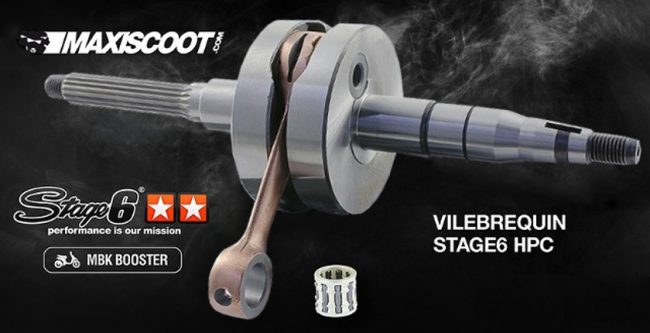 The reinforced crankshaft is produced in Italy; like in the MK 1 version, material and manufacturing quality are outstanding.
Technical specs:
forged connecting rod for 10mm piston pin, original stroke
metal webs and inserts
silver small end bearing 10 x 14 x 13mm
max. speed: 16.000 rpm
The Stage6 HPC (= High Primary Compression) crankshaft was designed to support and enhance the performance of 50cc to 70cc racing engines; high-end setups are also supported.
The Stage6 engineers decided to use metal counterweights. The balancing was designed for high-revving engines, even at high rpms the crankshaft remains stable and vibrations are reduced to a minimum. Compared to normal crankshafts, the engine runs smoother and power transmission during acceleration is more linear.
The connecting rod comes with a 10mm small end bearing and fits the majority of cylinders.
For optimum performance, we recommend using Stage6 C4 steel main bearings and oil seals.