Decal kits for dirt bikes are all the rage in the 50cc scene. Stage6 has recognized the signs of the times and has rolled out a complete series of decal kits for geared mopeds / enduro bikes. The stickers mirror the cool and sporty designs and colors of the offroad and supermoto scene.
The sets are available in the colours Orange / White and Orange / Black, the trademark colours of Stage6, for the models Beta RR, Derbi X-Treme / X-Race, MBK X-Limit, Rieju MRT and Yamaha DT.
The vinyl foil the stickers are made of is coated and highly resistant to UV rays. The stickers provide maximum protection from scratches, stone chips and sunlight, the colors do not fade and the parts are cut for optimal fit.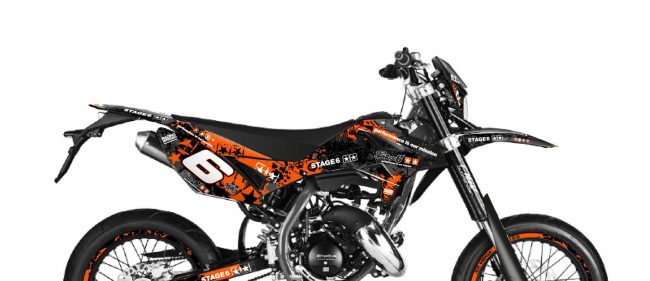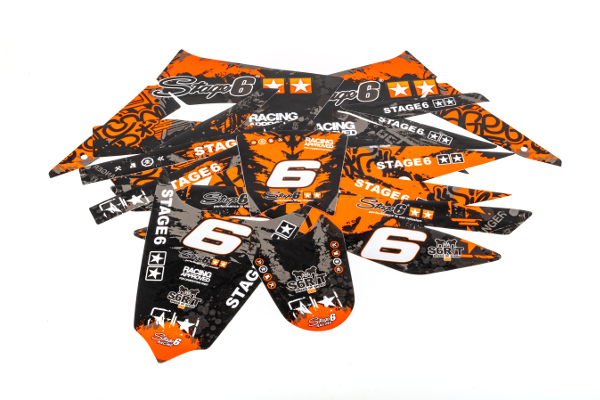 Each Stage6 Decal Kit consists of 9 to 23 individual decals, the exact number depends on the model. There are stickers for:
front mudguard
headlight mask
radiator covers
side panels
rear mudguard
swingarm cover
The individual stickers are precision-made for the respective model and adapt themselves perfectly to the shapes of the two-wheeler's plastics. The Stage6 decal kits are easy to apply, and the position can be adjusted for a few minutes after application.
For the perfectionists among you: in addition to the decal kits Stage6 also sells these rim stickers. Combine the decals and the rim stickers, and your bike will definitely turn heads!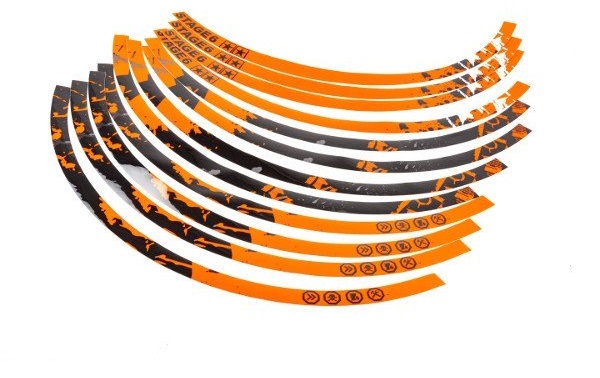 GO TO STAGE6 DECAL KITS